Nearly 200 whales stranded on New Zealand beach; 2 dozen dead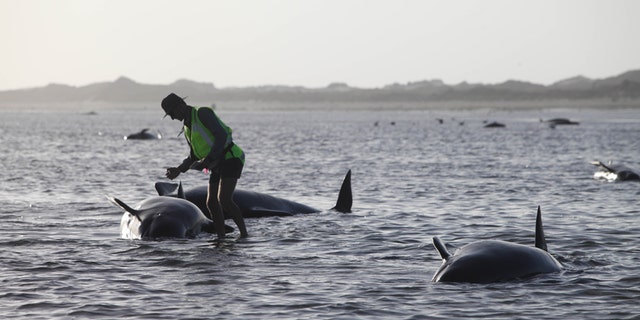 NEWYou can now listen to Fox News articles!
A huge rescue effort is underway to save nearly 200 pilot whales stranded on a beach in New Zealand's South Island.
The whales were stranded on Farewell Spit, at Golden Bay, near Nelson, according to The New Zealand Herald. Weather conditions and nightfall hampered efforts to save the whales on Friday, it reported.
Farewell Spit is a famous spot for whale beachings.
Two dozen of the 198 whales had already died despite efforts to save the creatures, Department of Conservation area manager Andrew Lamason said.
About 80 conservation workers and volunteers were trying to refloat the whales as high tide rolled in, Lamason said. But with such a vast number of animals stranded, workers were bracing for days of arduous work to move the whales back into the water.
And even if the whales were refloated, that was no guarantee they would survive, Lamason said.
The Associated Press contributed to this report