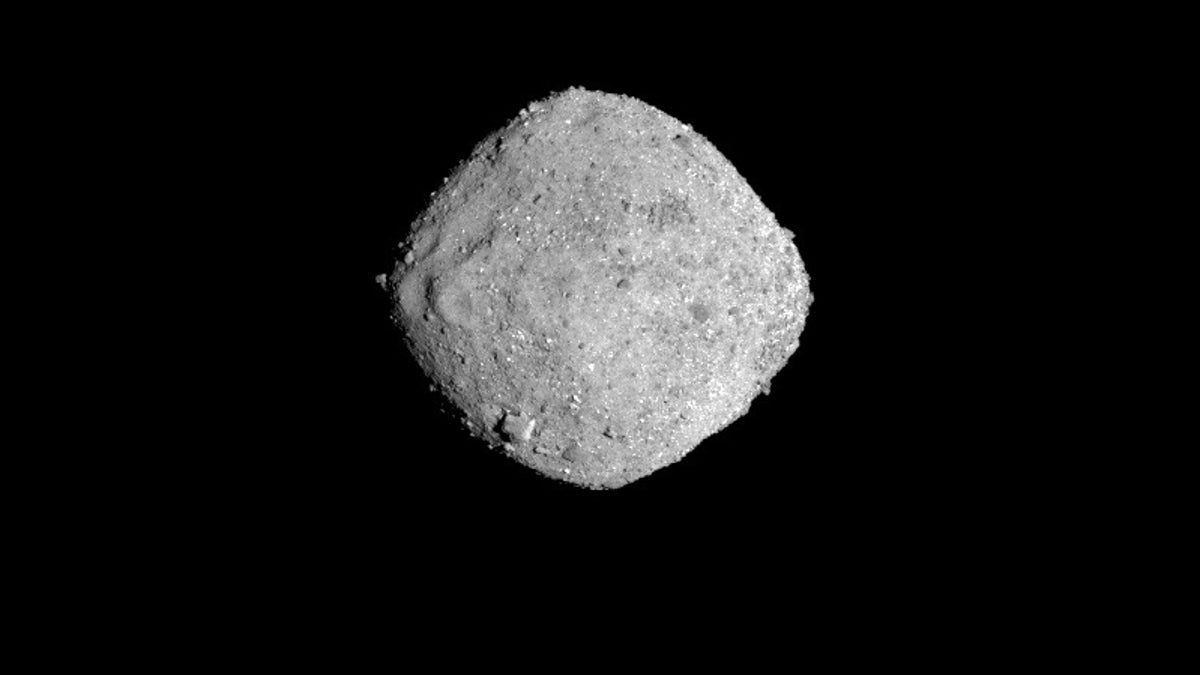 NASA's OSIRIS-REx spacecraft reached asteroid Bennu on Monday after traveling more than 1 billion miles through space.
The asteroid may provide answers to the origin of our solar system, according to NASA.
With Bennu more than 80 million miles away, it took seven minutes for word to get from the spacecraft to flight controllers at Lockheed Martin in Littleton, Colo. The company built the spacecraft there. "We have arrived!" announced Lockheed Martin Communications Engineer Javier Cerna.
SOYUZ SPACECRAFT CARRYING THREE ASTRONAUTS SUCCESSFULLY DOCKS WITH THE INTERNATIONAL SPACE STATION
Flight controllers applauded and exchanged high-fives once confirmation came through — exactly one week after NASA landed a spacecraft on Mars.
OSIRIS-REx, which stands for Origins, Spectral Interpretation, Resource Identification, Security-Regolith Explorer, launched in September 2016 from Cape Canaveral Air Force Station.
The spacecraft will now spend almost a year surveying the space rock from orbit. The probe is scheduled to briefly touch the asteroid with a robotic arm in July 2020 and retrieve a sample that will be returned to Earth in September 2023.
NASA'S INSIGHT MARS LANDER ARRIVES ON THE RED PLANET, ENDS SUCCESSFUL JOURNEY
Other countries are also ramping up their efforts to study asteroids. The Japan Aerospace Exploration Agency's (JAXA) Hayabusa 2 spacecraft recently lowered two small rovers onto a distant asteroid. Hayabusa 2 arrived at Ryugu on June 27, 2018, when the asteroid was almost 170 million miles from Earth. The spacecraft, which traveled almost 2 billion miles to reach the space rock, is expected to leave Ryugu at the end of 2019 and return to Earth around the end of 2020.
This is a busy time for NASA. On Monday, a Russian Soyuz spacecraft carrying three astronauts, including one American, successfully docked with the International Space Station. Monday's launch from Kazakhstan is the first successful manned mission to the space lab since an aborted Soyuz launch in October.
The agency's InSight lander landed successfully on the surface of Mars last week, ending a journey that lasted six months and completed more than 300 million miles.
NASA'S PARKER SOLAR PROBE GETS CLOSER TO 'TOUCHING THE SUN'
On Dec. 7, the first scientific data from NASA's Parker Solar Probe will be downloaded to Earth via the Deep Space Network. The probe blasted off on its $1.5 billion mission to the star in the early hours of Aug. 12, 2018.
The Associated Press contributed to this article. Fox News' Jennifer Earl and Chris Ciaccia contributed to this article.
Follow James Rogers on Twitter @jamesjrogers