NASA's $400M Mars Opportunity may not be lost after all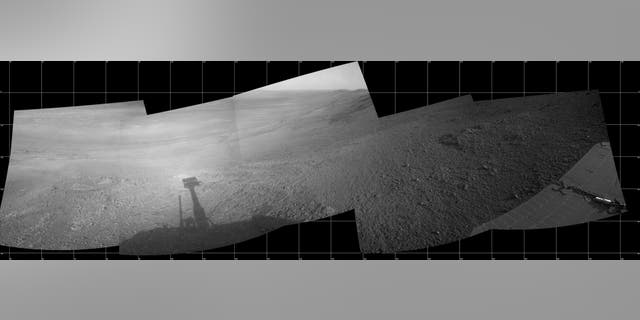 The massive dust storm on Mars that caused NASA to lose contact with the Opportunity rover is dissipating, giving new hope that the $400 million space vehicle may not be lost after all.
In an Aug. 30 blog post, NASA's Jet Propulsion Laboratory (JPL) wrote that the skies are clearing, which means the batteries on the rover should start to charge. The rover went dark after a dust storm that started in mid-June enveloped the entire planet.
"The Sun is breaking through the haze over Perseverance Valley, and soon there will be enough sunlight present that Opportunity should be able to recharge its batteries," said John Callas, Opportunity project manager at JPL, in the statement.
MARS OPPORTUNITY ROVER HAS IMAGE OF UNIDENTIFIED METALLIC OBJECT, PUTS INTERNET IN A FRENZY
Callas added: "When the tau level [a measure of the amount of particulate matter in the Martian sky] dips below 1.5, we will begin a period of actively attempting to communicate with the rover by sending it commands via the antennas of NASA's Deep Space Network. Assuming that we hear back from Opportunity, we will begin the process of discerning its status and bringing it back online."
Earlier this month, NASA, which is continuing to listen for signs and pinging the rover three times a week, admitted it may never hear back from the rover if its batteries were inactive for too long, discharging too much power.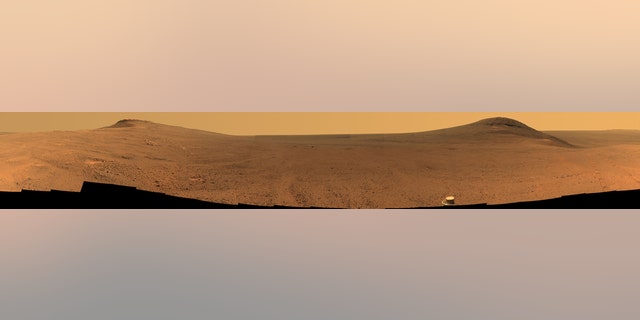 "Even if engineers hear back from Opportunity, there's a real possibility the rover won't be the same," NASA JPL's Andrew Good wrote in an Aug. 16 blog post. "The rover's batteries could have discharged so much power – and stayed inactive so long – that their capacity is reduced. If those batteries can't hold as much charge, it could affect the rover's continued operations."
This sentiment was echoed in the Aug. 30 post as well, with NASA writing "there is no assurance the rover will be operational." The impact of the storm on Opportunity's systems is still unknown and unforeseen but could make it "difficult for the rover to fully return online."
Despite that, Good expressed optimism at the time, noting the batteries were in "good health" before the storm, so degradation was not likely to be an issue. Nor was the dust storm, with the dust either shed from the cameras or calibrated out.
NASA'S MARS OPPORTUNITY ROVER, $400M SPACECRAFT, UNRESPONSIBE IN MARTIAN DUST STORM FOR 2 MONTHS
That said, the clock is ticking for the Opportunity rover to make contact. "If we do not hear back after 45 days, the team will be forced to conclude that the Sun-blocking dust and the Martian cold have conspired to cause some type of fault from which the rover will more than likely not recover," said Callas.
Callas further added: "At that point our active phase of reaching out to Opportunity will be at an end. However, in the unlikely chance that there is a large amount of dust sitting on the solar arrays that is blocking the Sun's energy, we will continue passive listening efforts for several months."
Assuming NASA does get a signal from Opportunity, Good cautioned earlier this month there could be a lag of several weeks after NASA hears back a second time, likening it to a patient coming out of a coma. "It may take several communication sessions before engineers have enough information to take action," he wrote.
MARS OPPORTUNITY ROVER HAS IMAGE OF UNIDENTIFIED METALLIC OBJECT, PUTS INTERNET IN A FRENZY
Opportunity's history
The Opportunity rover, which was initially meant to be on the Red Planet for a 90-day mission, has made several groundbreaking discoveries throughout its now roughly 15-year trip, initially leaving Earth on July 7, 2003.
So far, it has detected signs of water, explored the insides of two craters and completed a marathon — the first vehicle to do so on another planet.
But Opportunity's journey hasn't always been a smooth one.
In 2005, the rover lost the use of one of its front wheels and got stuck in a thick pile of sand for about five weeks, according to Space.com. When it finally managed to move, it ran into a sand dune. In 2007, a dust storm hit and reportedly cut the spacecraft's power to "dangerously low levels." A month later, it turned back on and began exploring the Victoria Crater.
Despite its obstacles, the Opportunity has always managed to pull through. But this time, researchers aren't sure what will happen.
In the meantime, scientists are trying to stay positive, creating a Mars-themed Spotify playlist — featuring "Wake Me Up Before You Go-Go" by Wham!, "Rocket Man" by Elton John, among others — and an office pool to help pass the time.
"In a situation like this, you hope for the best but plan for all eventualities," Callas concluded. "We are pulling for our tenacious rover to pull her feet from the fire one more time. And if she does, we will be there to hear her."
Fox News' Jennifer Earl contributed to this report. Follow Chris Ciaccia on Twitter @Chris_Ciaccia