NASA preps revolutionary 'flying saucer' test flight
NEWYou can now listen to Fox News articles!
NASA will conduct an ambitious test flight of its revolutionary 'flying saucer' technology Tuesday as scientists lay the foundations for future Mars missions.
The high altitude test at the U.S. Navy Pacific Missile Range Facility in Kauai, Hawaii, will use a huge balloon to carry the 15-foot wide, 7,000-pound test flying saucer to high altitude. The balloon, roughly the size of three football fields, will lift the flying saucer to 120,000 feet, at which point the vehicle will be released. A booster rocket will then transport the saucer at Mach 4, four times the speed of sound, to a height of 180,000 feet.
After reaching a height of 180,000 feet, a doughnut-shaped airbag will inflate around the saucer for its descent to earth. "That airbag helps it slow down by adding more area and drag," Steve Jurczyk, NASA space technology mission directorate associate administrator told FoxNews.com. "Then we deploy a supersonic parachute about 100 feet in diameter."
Slowed down by the airbag and parachute, the saucer is expected to splash down in the Pacific Ocean near Hawaii about 2 hours and 15 minutes after launch.
Launch is expected to be between 1:30 p.m. ET and 3 p.m. ET Tuesday, according to NASA.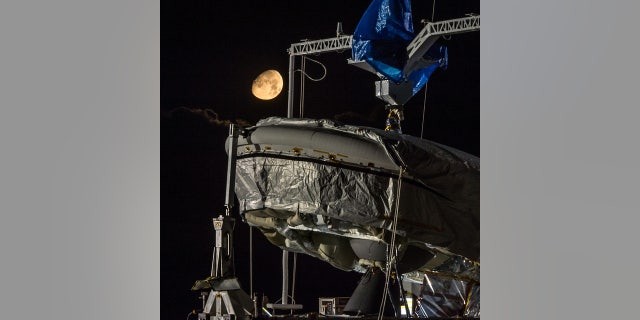 The saucer, part of NASA's Low-Density Supersonic Decelerator (LDSD) project, which aims to develop landing vehicles for future missions, underwent a "spin test" on a table at NASA's Jet Propulsion Laboratory in Pasadena, Calif. on March 31.
Jurczyk explained that taking the saucer to an altitude of 180,000 provides a crucial test ahead of future missions to Mars. "We go to that high altitude because it simulates the atmospheric conditions on Mars," he said. "Mars has a very thin atmosphere."
With current space technologies, NASA can land about 1 metric tonne, or 2,200 pounds on the surface of Mars, roughly equivalent to the Curiosity Rover's weight.
"With this LDSD technology we hope to land about five metric tonnes, that will enable more capable robotic missions," said Jurczyk, noting that a 'sample return' vehicle could even be used to return Mars samples to earth.
NASA, which is planning to conduct a demonstration mission to Mars in 2024, says that the technology could eventually be used on human missions to the Red Planet.
NASA conducted a dress rehearsal for Tuesday's mission on May 29 at the U.S. Navy Pacific Missile Range Facility.
This is the second flight test for the flying saucer technology. Last year an LDSD test in Hawaii was deemed a success by engineers, despite the vehicle's huge parachute apparently failing to deploy properly, according to Space.com.
Follow James Rogers on Twitter @jamesjrogers