NASA Postpones Space Shuttle Endeavour Launch at Least 72 Hours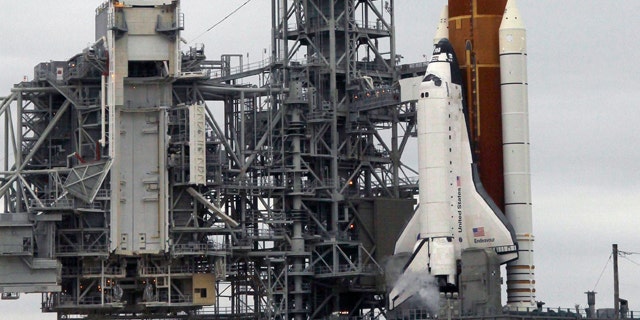 NEWYou can now listen to Fox News articles!
CAPE CANAVERAL, Florida – NASA has postponed the launch of space shuttle Endeavour by at least 72 hours, following the discovery of two failed heaters in an auxiliary power unit.
"We will fly no orbiter before she's ready," said Mike Leinbach, shuttle launch director, announcing the delay. "Today she just wasn't ready to go."
Leinbach said the issue lay in the thermostat for one of the fuel lines tied to Auxiliary Power Unit 1 heaters, which provide hydraulic power to steer the craft during ascent and descent.
"We need to keep those lines warm to keep things from freezing in orbit," Leinbach explained, speculating that the issue was a short in one of the Load Control Assemblies -- essentially switchboxes in the shuttle. "We tried to let the line cool down by normal means to see if the heater would kick in by normal means. That did not work," he explained.
The soonest the craft could launch is now Monday afternoon -- though even that date appears tenuous. Leinbach described the three-day turn around time as "an absolute minimum."
The last-minute launch scrub surely came as a surprise to the astronauts and commander Mark Kelly, who were suited up in the Astrovan. Their van had made it halfway to the launchpad and past the cavernous Vehicle Assembly Building before making a U-turn and heading back.
Hundreds of thousands of disappointed fans have been crowding nearby coastal communities for the liftoff. For days, police have been warning of massive traffic delays, while schools planned to dismiss students early to watch.
The space agency had just finished filling the external fuel tank for the shuttle for the lift-off, what will be its final trip into space.
President Barack Obama still plans to travel to Cape Canaveral Friday. He will tour an orbiter processing facility at NASA, rather than witness the launch with his wife and two children -- which would have been the first time in NASA history that a sitting president and his family witnessed a launch.
Commanding Endeavour on NASA's next-to-last shuttle flight is Navy Capt. Mark Kelly, who is married to Rep. Gabrielle Giffords. She was to watch the launch from Kennedy Space Center. Giffords was shot in the head in January and left rehab behind to attend the afternoon liftoff.
For its last hurrah, the spaceship is carrying one of the most expensive payloads in NASA's 30-year shuttle history: a $2 billion particle physics detector that will seek out antimatter and dark energy across the universe. Many in and outside NASA say the experiment, if successful, could validate science operations at the decade-old orbiting lab.
NASA is ending the shuttle program this summer, after one last trip by Atlantis. Obama has put the space agency on a path to asteroids and Mars, ultimately, while encouraging private companies to take over Earth-to-orbit operations.
In the meantime, U.S. astronauts will keep using Russian Soyuz rockets to get to the space station.
Once Atlantis flies, it will be at least three years before America launches astronauts from their home soil again.
Newswires contributed to this report