NASA is using underwater robots to explore the deep-sea off the Hawaiian coast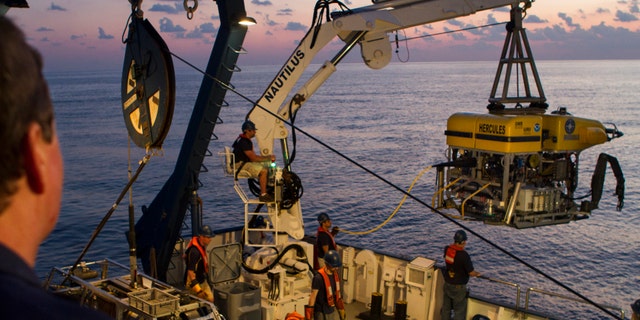 NEWYou can now listen to Fox News articles!
NASA is launching a new project to help it better understand the deepest parts of space, without ever leaving Earth.
The announcement, made on Tuesday, is part of the government space agency's Systematic Underwater Biogeochemical Science and Exploration Analog (SUBSEA) project and will help aid NASA's search for life in deep space, as well as better understanding of our own planet. NASA believes the environment around a deep-sea volcano off the coast of Hawaii is similar to that of Saturn's moon, Enceladus.
"Studying the extreme conditions where life can survive on Earth will help them understand the potential for life to exist on other ocean worlds in the solar system," NASA said on its website.
NASA CHIEF WANTS TO SEND HUMANS TO THE MOON - 'TO STAY'
As part of the SUBSEA project, the robots, named Hercules and Argus, will study the biology, geology and chemistry of the region.
NASA is teaming up with the National Oceanic and Atmospheric Administration and the Ocean Exploration Trust (OET) on the project. The OET is operating the robots, which were launched from its exploration vessel, Nautilus.
The SUBSEA team will spend three weeks at sea and will study the volcano and simulate human-robotic exploration to help with future deep-space missions, NASA said.

Follow Chris Ciaccia on Twitter @Chris_Ciaccia