NASA Announces Final Homes for Space Shuttles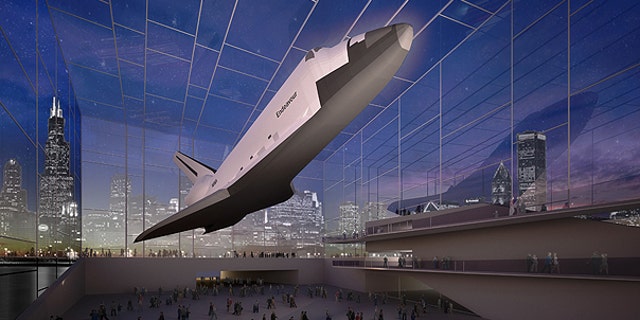 CAPE CANAVERAL, Florida – A teary NASA chief announced the final resting places for America's storied shuttle program Tuesday.
Twenty-one museums and centers around the country put in bids for the space shuttles, massive mementos of 30 years of American spaceflight that are expected to be just as big tourist attractions in the years to come. The announcement came on the 30th anniversary of the first space shuttle flight -- and coincidentally, the 50th anniversary of Yuri Gagarin's first historic first flight.
Fighting back tears, NASA chief Charlie Bolden announced that Atlantis will remain where it is, in Florida's Kennedy Space Center, where its storied history can be shared with as many people as possible over the coming decades, Bolden said. The California Science Center will get Endeavour, he announced, while a Virginia branch of the Smithsonian National Air and Space Museum will get Discovery.
New York City will be the new home of space shuttle Enterprise, the prototype shuttle used for test flights more than three decades ago. Sens. Charles Schumer and Kirsten Gillibrand said Tuesday that Enterprise will go to the Intrepid Sea, Air and Space Museum.
Each museum plans to highlight the unique display in a special way. For example, the James S. McDonnell Space Hangar of the Smithsonian museum's Steven F. Udvar-Hazy Center in Chantilly, Va., said Discovery would occupy a central position in a space hangar -- surrounded by scores of other major artifacts. The museum also houses the 1903 Wright Flyer, the Spirit of St. Louis, the Mercury Friendship 7 capsule, and the Apollo 11 Command Module Columbia.
Discovery flew 39 missions, including satellite deliveries, Defense Department projects and trips to the Hubble Space Telescope and the Russian space station Mir. It retired after having spent a total of 365 days in space
The news was bittersweet for many fans of the space program.
"While it is disappointing to see our Shuttle fleet retire, I am excited to welcome home the Space Shuttle Atlantis, which is scheduled to make its 33rd and final launch, and the Shuttle program's culminating launch, this summer," said Florida congressman Bill Posey (R-Rockledge).
"Since 1985, Atlantis has performed such missions as launching satellites, deploying the Magellan probe to Venus and the Galileo probe to Jupiter; ferrying crew and cargo to Space Station Mir and the International Space Station; and performing the final servicing of the Hubble Space Telescope," Posey said in a statement. "The Space Shuttles are indeed an iconic piece of American history."
With 21 museums jockeying for ownership of the shuttles, the announcement was bound to ruffle some feathers.
"Like many Texans, I am disappointed with NASA's decision to slight the Johnson Space Center as a permanent home for one of the Space Shuttle Orbiters," said U.S. Sen. John Cornyn, R-Texas, in a statement -- clearly dejected that Texas was not selected. "Houston has played a critical role throughout the life of the space shuttle, but it is clear political favors trumped common sense and fairness in the selection of the final locations for the orbiter fleet. "
Rep. Pete Olson echoed those sentiments: "Disappointment doesn't begin to describe my reaction to this announcement," he said in a statement issued Tuesday. '"While Houston deserves the honor of a shuttle orbiter, the bigger priority is ensuring a strong human space flight program centered at Johnson Space Center. I remain committed to providing NASA with a strong human space flight program. This is an issue near and dear to my heart.
But the announcements of their final resting places doesn't mean the shuttle mission is over -- two rocket launches still remain, Bolden cautioned.
"Stay focused," he told crowds at Kennedy Space Center. "We've got two more flights to do so that we can safely fly out the shuttle."
"You've done an incredible job. You should feel incredibly proud. I know I do," Bolden said.