Mysterious Mars rock formation explained - and it doesn't involve UFOs
The cause of a mysterious rock formation on Mars that NASA deemed "an enigmatic pile of eroding sediments" and UFO hunters strongly believe is an extraterrestrial spacecraft was likely caused by volcanic activity on the planet billions of years ago, researchers say.
The Medusae Fossae Formation (MFF) was first observed in the 1960s via the Mariner spacecraft, but NASA scientists could not explain what caused it. Now, a group of researchers have published a study in the Journal of Geophysical Research that suggests it was formed by volcanic eruptions more than 3 billion years ago.
"This is a massive deposit, not only on a Martian scale, but also in terms of the solar system, because we do not know of any other deposit that is like this," said Lujendra Ojha, a planetary scientist at Johns Hopkins University in Baltimore, in a statement.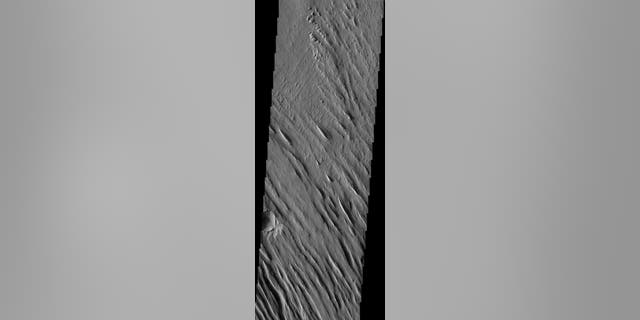 NASA IS WATCHING A DUST STORM ON MARS THE SIZE OF NORTH AMERICA AND RUSSIA COMBINED
The scale of the Medusae Fossae Formation is enormous, at roughly one-fifth the size of the U.S. It's also 100 times more massive than the largest explosive volcanic deposit on Earth, which would make it the largest known explosive volcanic deposit in the solar system.
The study's abstract notes that the MFF is a "a relatively porous unit" and thought its origin is uncertain, "several processes including volcanic, eolian, and ice‐related mechanisms have been proposed in its formation."
The researchers were able to use data from various Mars orbiter spacecraft in order to measure the Medusae Fossae's density for the first time, calling out its porous nature (it's approximately two-thirds as dense as the rest of the Martian crust) and theorized that it was caused by "explosive volcanic eruptions."
"The eruptions that created the deposit could have spewed massive amounts of climate-altering gases into Mars's atmosphere and ejected enough water to cover Mars in a global ocean more than 9 centimeters (4 inches) thick," Ojha said.
MASSIVE MARS DISCOVERY: ORGANIC MOLECULES 'FUNDAMENTAL TO OUR SEARCH FOR LIFE' FOUND BY NASA ROVER
Because of the high levels of carbon dioxide and water that have been released from the MFF, the MFF has "substantially contributed to the Martian atmosphere and hydrosphere," the study's abstract added.
Follow Chris Ciaccia on Twitter @Chris_Ciaccia