Meteorite probably didn't kill man in India, NASA says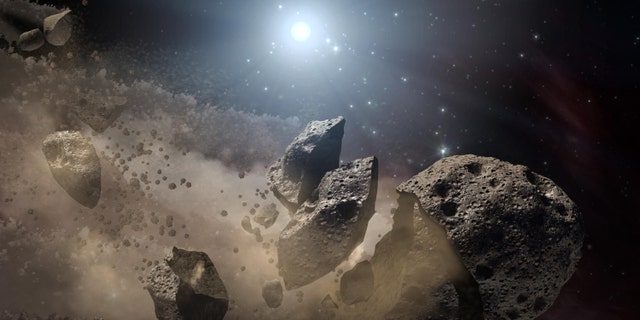 NASA has questioned whether a man was killed by a meteorite in India on Saturday, following multiple reports that the victim died after an object plunged to Earth from space.
The Tamil Nadu government said that the meteorite crashed into an engineering college in Vellore in Southern India, killing one man and injuring three others, according to The Times of India.
Citing witnesses, The Times of India reports that the meteorite's blast left a crater 5 feet deep and 2 feet wide. Police recovered a black, pockmarked stone weighing 0.39 ounces, it said.
Related: NASA will tackle asteroids with new Planetary Defense Office
"Initial assessments, based on photos posted online, are not consistent with something from space," explained NASA, in a statement emailed to FoxNews.com. "Small meteorites do not start fires or cause explosions when they hit the ground."
The space agency explained that it would take a meteorite "of at least several kilograms" to form a crater the size of what has been posted online in photos. "While more details may be forthcoming from local scientists, this is unlikely something from space," it added.
Experts from the Indian Institute of Astrophysics on Tuesday examined the impact crater using metal detectors to check the site for the presence of metals and dug up the soil.
Related: 100-foot asteroid to buzz Earth next month
In an email to The New York Times, NASA's Planetary Defense Officer Lindley Johnson explained that death by meteorite impact is so rare that one has never been confirmed in recorded history. "There have been reports of injuries, but even those were extremely rare before the Chelyabinsk event three years ago," he said, citing the meteor that entered Earth's atmosphere and exploded over Russia in 2013.
NASA recently opened a new office to track asteroids and comets that come too close to Earth.
The Planetary Defense Coordination Office (PDCO) formalizes the agency's existing program for detecting and tracking near-Earth Objects (NEOs). The office is located within NASA's Planetary Science Division, which is in the agency's Science Mission Directorate in Washington.
"NASA places a high priority on finding and characterizing any potentially hazardous asteroids or other objects as much in advance as possible to have sufficient time to protect our home planet from an impact," explained the agency, in an email to FoxNews.com. "Over the past five years, the agency has increased by a factor of 10 our nation's investment in asteroid
detection, characterization and mitigation activities."

The Associated Press contributed to this report.