Medieval 'pot o' gold' discovered by construction workers
Just in time for Saint Patrick's Day — two construction workers in Holland have discovered a real-life "pot o' gold."
The workers from water company Oasen made the stunning find when they were laying pipes in the new town of Hoef and Haag, in the province of Utrecht, LiveScience reports.
During the construction work, they dug up a medieval cooking pot that contained 12 gold and 462 silver coins. The coins have been dated to the 15th century.
TEENAGER'S DISCOVERY OF ROMAN TREASURE TROVE DELIGHTS EXPERTS
After finding the pot, "it literally and figuratively rained coins," the company explained in a press release translated via Google Translate.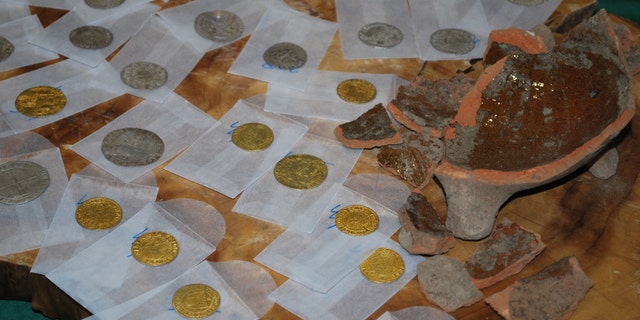 The coins, which were stuck together, had turned green.
When the utility workers called in their boss, he reported the discovery to the archaeology hotline for Landschap Erfgoed Utrecht (Landscape Heritage Utrecht).
RTV Utrecht reports that experts immediately visited the site and used a metal detector to recover all the coins.
Some of the coins were found with textiles, which had apparently been used as a sort of protective roll.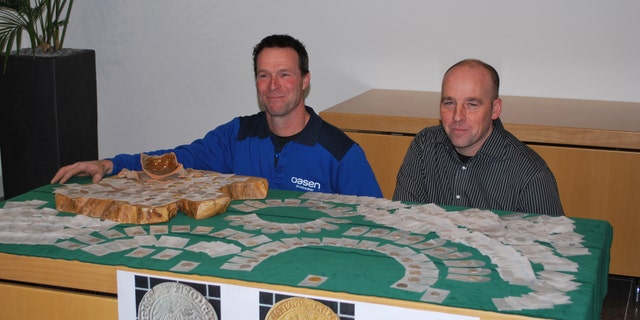 HISTORY'S DUMPING GROUND: 400 BYZANTINE COINS, GOLD JEWELRY FOUND DISCARDED IN REFUSE PIT
The coins were transferred to the Omgevingsdienst regio Utrecht (Regional Environment Agency Utrecht) for analysis by archaeologist Peter de Boer, according to RTV Utrecht.
Most of the coins date back to the 1470s and 1480s. Notable artifacts among the hoard include a rare "Salut d'or" gold coin of King Henry VI of England and France that was struck in Paris in the early 15th century.
Coins from David of Burgundy, a 15th century bishop of Utrecht, and Pope Paul II, were also found.
Details of the discovery, which was made in August 2017, was revealed in a press event in the Dutch city of Vianen earlier this month.
ROMAN COINS DISCOVERED IN RUINS OF JAPANESE CASTLE
In its statement, Oasen said that a number of the coins will be cleaned during the coming weeks. They will then be analyzed by experts at De Nederlandsche Bank, Holland's central bank.
A spokesman for Oasen told Fox News that legal ownership of the coins is divided between four parties: the two construction workers, the owner of the land and the real estate developer. "The coins will most likely be lend out to a local museum, this will be decided in the next months," he added.
Coins offer a fascinating glimpse into history and can shed new light onto the economic, cultural and political life of previous eras.
Last year, for example, archaeologists in the U.K. announced the discovery of a rare Roman coin that was discovered on a remote Scottish island, 200 miles beyond the northern edge of the Roman Empire. In 2016, archaeologists were stunned to discover Roman coins in the ruins of a Japanese castle, prompting speculation that the coins were brought to Japan via trade routes linking the West to Asia.
In 2013, hundreds of ancient coins were discovered in a Byzantine-era refuse pit in Israel.
Follow James Rogers on Twitter @jamesjrogers