Massive ice volcanoes once covered dwarf planet Ceres eons ago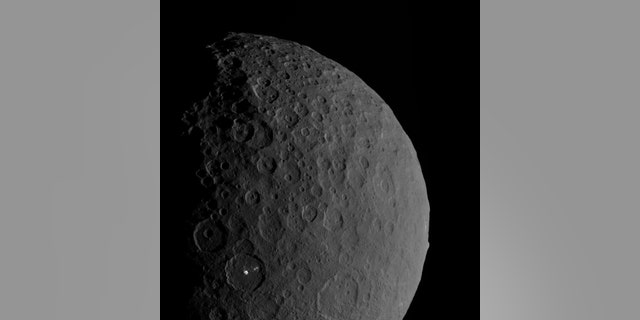 A new study shows that dozens of ice volcanoes used to litter the surface of the dwarf planet, Ceres, billions of years ago.
Unlike volcanoes on Earth, ice volcanoes (also known as cryovolcanoes) shoot water-ice and other frozen bits.
"Ceres is the only plausibly cryovolcanic world to be orbited by a spacecraft up to now, making it the best opportunity to test the importance of cryovolcanism on bodies in the outer Solar System and compare its effects to silicate volcanism on terrestrial planets," the study reads.
CASSINI'S LAST VIEW OF SATURN MOON SHOWS FABULOUS METHAN LAKES
The study's lead author, Michael Sori, a planetary scientist at the University of Arizona at Tucson, told Space.com the ice volcanoes on Ceres are "the best opportunity we've had so far to learn more about the similarities and differences between cryovolcanism and regular volcanism."
The study has been published in the journal Nature Astronomy.
Ice volcanoes are rare in the solar system, but have been spotted on a few celestial bodies, such as Saturn's moons Enceladus and Titan, as well as Pluto. Not much is known about them, making them of intense interest to researchers.
PENCE SETS SIGHTS ON MOON, MARS, IN NASA SPEECH
"Cryovolcanoes are some of the most intriguing features in the solar system," Rosaly Lopes, a Cassini radar team investigation scientist, said in 2008 when talking about cryovolcanoes on Saturn's moon, Titan. "To put them in perspective -- if Mount Vesuvius had been a cryovolcano, its lava would have frozen the residents of Pompeii."
Ceres' ice volcanoes, however, have largely gone dormant and eroded over the past billion years or so, including one discovered in 2015, the 2.5-mile-high Ahuna Mons, the most prominent of the ice volcanoes on the dwarf planet.
PLUTO SHOULD BE A PLANET AGAIN, RESEARCHERS ARGUE
Ceres is the largest member of the asteroid belt, located between Mars and Jupiter. Its diameter is approximately 585 miles, within the orbit of Neptune and is the 33rd-largest known body in the solar system, having been discovered in 1801 by Giuseppe Piazzi.
Though the ice volcanoes helped shape Ceres into what it is today, it's not as "dominant a process" as volcanoes on Earth, the Moon, Mars or Venus, Sori told Space.com. "The dark spots you see on the moon at night are huge volcanic plains, and we don't see anything analogous like that on Ceres."

Follow Chris Ciaccia on Twitter @Chris_Ciaccia