Mapping Mars: Digital landscape shows contours, legend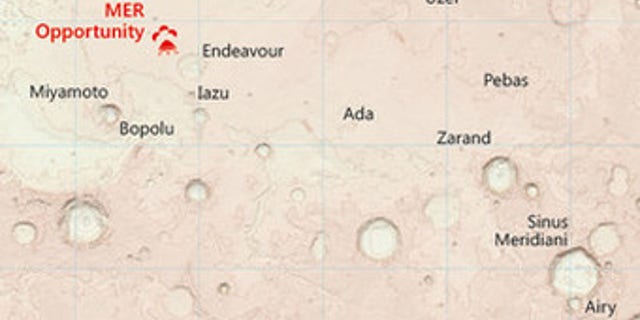 A new digital map offers an impressive rendering of the Mars landscape.
Using NASA open data, Ordnance Survey, the U.K.'s national mapping agency, has surveyed part of the red planet's surface to create a one-off paper and digital map. The 2,282-by-1,691-mile Mars map, produced at a scale of 1 to 4 million, is part of an OS effort to assess potential use of its mapping expertise for future Mars missions.
Related: Mars has flowing liquid water, NASA confirms
"Becoming more familiar with space is something that interests us all and the opportunity to apply our innovative cartography and mapping tradecraft to a different planet was something we couldn't resist," explained OS Director of Products David Henderson, in a press release. "We were asked to map an area of Mars in an OS style because our maps are easy to understand and present a compelling visualization, and because of this we can envisage their usefulness in planning missions and for presenting information about missions to the public."
OS, which was created for military purposes in 1791, has 500 million unique geographic features of Great Britain in its database. The last time the agency created a map outside of Britain's shores was in the mid-1990s.
Related: SpaceX CEO Elon Musk eyes city on Mars after successful rocket landing
"We have set out from the start to treat the Mars data no different to how we would treat OS GB data or any other Earth-based geography," said OS Cartographic Design Consultant Chris Wesson, who designed the map. "The cartographic style is something that is very different to your typical planetary map and is identifiable as an OS map. The key ingredients to this style are the soft color palette of the base combined with the traditional map features such as contours and grid lines, and the map sheet layout complete with legend."
NASA has a 2035 target for landing humans on Mars, although Elon Musk, CEO of private space company SpaceX, has predicted that people could be on Mars within 8 to 10 years. In December Musk said that SpaceX's audacious vertical rocket landing lays a critical foundation for reusable rockets that could help humans colonize Mars.
Related: NASA releases stunning 360-degree Mars video
Earlier this month, NASA released an incredible 360-degree video that lets users scroll around the red planet's surface. The video, which was taken by a camera on NASA's Curiosity rover, was posted to YouTube by the space agency's Jet Propulsion Laboratory.