'Lost city' in Tanzania reveals secrets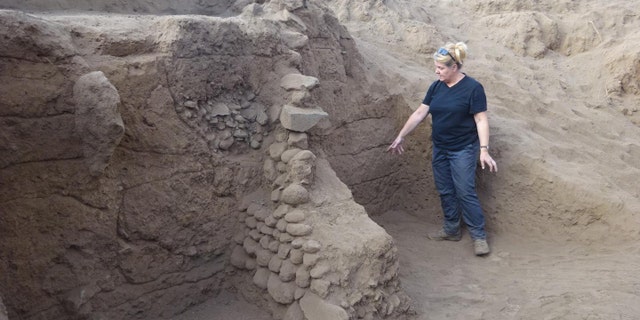 Experts working on the 700-year-old abandoned site of Engaruka in Tanzania have revealed farming practices that could be useful in modern agriculture.
Researchers from the U.K.'s University of York found that sophisticated irrigation systems and terraces at Engaruka were built to capture eroded sediments that were used to feed the site's arid landscape.
"We knew before starting our work that an irrigation system of this size required more water than is available in the area today, but what we have found is that the site used to flood, and that the inhabitants carefully manipulated these floods to grow crops and to accumulate vast quantities of sediments," explained Dr. Carol Lang of the University of York's Department of Archaeology, in a statement.
'LOST CITY' DISCOVERY: KANSAS SITE SHEDS NEW LIGHT ON NATIVE AMERICAN HISTORY
Once thought to be a 'lost city' of up to 40,000 inhabitants, Engaruka is now recognized as the remains of the largest abandoned system of irrigated agricultural fields and terraces in sub-Saharan Africa.
However, researchers note that the 7.7-square-mile site was mysteriously abandoned about 200 years ago. Some experts believe that this may have been the result of climate change or deforestation, which reduced water supply to the fields.
The latest research is part of the Archaeology of Agricultural Resilience in Eastern Africa (AAREA) project.
GLADIATOR GAMES: EXPERTS HARNESS TECH TO REVEAL ROMAN CITY'S SECRETS

Researchers used archaeological excavation, geochemical analysis and soil micromorphology, which measures the components in soil. Their study, which was published in the journal Quartenary Research, challenges the assumption that soil erosion is always a bad thing.
"The inhabitants of ancient Engaruka were clearly highly skilled landscape engineers and agricultural managers, and there are lessons to be learnt here that can be applied to modern farming," explained Dr. Daryl Stump, the project's principal investigator, in the statement. "Since recognising these sediment traps at Engaruka, our team has found very similar structures at the UNESCO World Heritage site of Konso in Ethiopia, where farmers report that sediment traps are more economically important than hillside terraces."