Last Space Shuttle Astronauts Finish Packing Up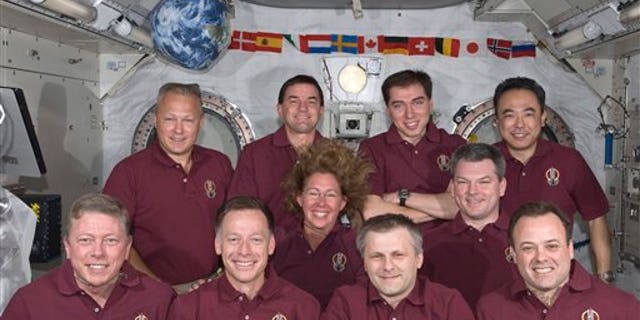 NEWYou can now listen to Fox News articles!
CAPE CANAVERAL, Florida – The astronauts making NASA's last shuttle flight gave up their off-duty time Sunday and finished packing up their gigantic suitcase for the ride home.
The 10 space travelers cheered as they put the final items in Raffaello, the Italian-made cargo canister that's the size of a bus.
More than 5,600 pounds of old space station equipment, packing foam and other trash will return to Earth this week inside Raffaello. Everything is neatly packed and stacked, even if it is junk.
"We're full," reported astronaut Sandra Magnus. "Everybody pitched in."
The compartment will be moved from the International Space Station back onto space shuttle Atlantis early Monday. It carried up to 9,400 pounds of food, clothes and other household goods -- a year's worth of supplies.
Atlantis will undock from the space station Tuesday, after a visit of more than a week, and aim for a Thursday landing back in Florida to end 30 years of shuttle flight.
Mission Control gave the four shuttle astronauts some time off Sunday to relax before heading home, but they spent it packing.
Now that most of the work is behind, the realization that this is the last shuttle flight is starting to sink in, said flight director Chris Edelen. He said he had a dream the night before in which he was in Mission Control gazing, via TV, at the "beautiful" wings of Atlantis, docked at the space station.
"In my dream, when I woke up, I realized, 'Hey, I really do need to savor these moments,' " he told reporters, "because this likely will be the last time we ever see a big, winged vehicle like that docked to the space station."
In a departure from last week's string of celebrity greetings, Sunday's special message to the crew aboard Atlantis came from workers at NASA's Stennis Space Center near New Orleans. That's where the shuttle main engines were tested over the decades.
"It's time to fire up your engines -- laissez les bons temps rouler!" the Stennis crowd shouted, using the Cajun expression for "Let the good times roll."
The wake-up music was Kool and the Gang's 1980 hit "Celebration," chosen by the shuttle crew before the flight.
Magnus said the crew picked the song "to dedicate to the whole shuttle work force in celebration of everything that you've accomplished over the years."
NASA is retiring its three space shuttles, sending them to museums, so it can work on sending astronauts beyond low-Earth orbit. The goals set forth by the Obama administration: an asteroid by 2025 and Mars by the mid-2030s.