'Jupiter Triangle' to shine bright in April's night sky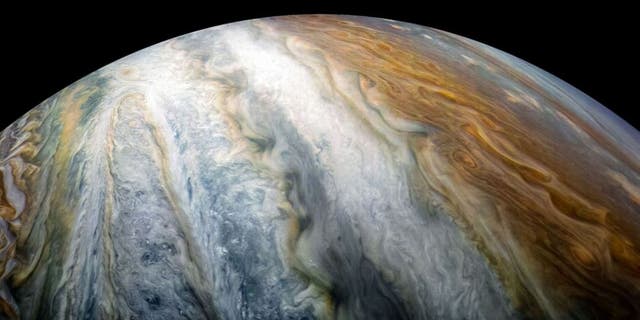 NEWYou can now listen to Fox News articles!
Jupiter is set to delight stargazers with a special show this week when it connects two of the brightest stars in the solar system: Arcturus and Spica.
The fifth planet from the Sun formed an isosceles triangle, dubbed the "Jupiter Triangle," in April as it continued to rotate at an angle that allows people to view it from Earth.
"The Jupiter Triangle will be in a constant state of flux in the coming weeks because Jupiter will has been slowly shifting its position against the background stars," Space.com explained in a post online.
'MERCURY IN RETROGRADE': SHOULD WE EXPECT BAD LUCK?
The best time to view it, according to Space.com, is around 11 p.m. local time this week.
"It is facing east-southeast this week, and the full moon will pass across the lower half of the triangle on April 28 and April 29," Space.com added.
The triangle is expected to last for months, though it will slowly change shape as Jupiter moves in retrograde – turning the opposite direction in relation to other planets within its solar system – through July.
"Once summer comes around the triangle will begin looking a lot narrower than it did in the spring," Inverse reports.
SOLAR STORM COULD STRIKE EARTH THIS WEEK; WHAT YOU NEED TO KNOW
The star Spica, part of the Virgo constellation, and Jupiter will lose their bright glow by November, officially breaking the triangle. The planet and the two stars reportedly won't be seen together again for another 12 years.
The "Jupiter Triangle" won't be the only bright shape to grace the night skies this year. The famous "Summer Triangle," composed of three of the brightest stars in existence – Altair, Deneb and Vega –will also return this year.
"During summer months, the triangle can be found nearly overhead near midnight as three of the brightest stars on the sky," NASA wrote in a blog post online, adding that the celestial event kicks off in mid-June.