John Lennon's 'Love Me Do' guitar sold at auction for $2.4 million
A piece of  music history was sold for more than $2 million on Saturday when the acoustic guitar that John Lennon used to record and write "Love Me Do," "I Want to Hold Your Hand" and other hits was auctioned.
The Gibson J-160E guitar was sold for $2.4 million to an undisclosed buyer, according to Los Angeles-based Julien's Auctions.
The auction house said the guitar was one of only two of its type flown from America to England in 1962 for Lennon and his fellow Beatle George Harrison. Lennon used the guitar for about a year before swapping it with Harrison; it later went missing during a Christmas concert in 1963.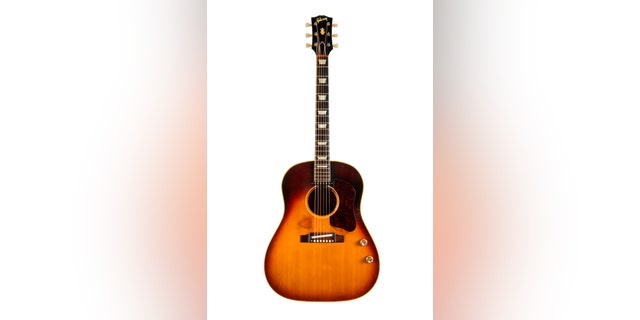 The guitar's whereabouts was unknown for over 50 years until a California man discovered last year that a guitar in his possession may have historical value.
John McCaw of San Diego, who bought the guitar in the late 1960s for $275, stumbled on an old magazine story about Harrison, which featured a photo of the instrument which bore similar markings as his guitar.
An expert was able match the guitar's serial number, wood grain and markings to the one Lennon used in the early 1960s, Julien's Auction said in a news release.
The drum head that the Beatles used in their landmark performance on "The Ed Sullivan Show" was also auctioned Saturday for $2.1 million, the auction house said.
Related: Elvis Presley's boots up for grabs in UK auction
A piece of Rock and Roll history will also be up for grabs this weekend. A pair of boots worn by Elvis Presley during a famous TV performance are expected to sell for more than $37,000 when they are auctioned in the U.K. on Saturday.
Presley wore the white Verde brand boots when he sang "If I Can Dream", which capped a 1968 NBC TV special. The boots, which are being auctioned by Henry Aldridge & Son, have a presale estimate of between $37,594 and $45,086.
The Associated Press contributed to this report.