Jet-Powered 'Rocket Man' Flies Loop the Loops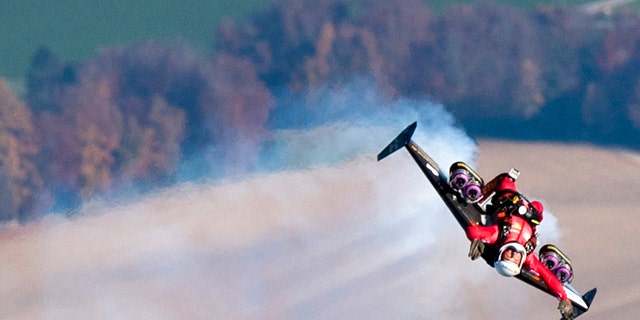 NEWYou can now listen to Fox News articles!
BERCHER, Switzerland – Swiss adventurer Yves Rossy jumped from a hot-air balloon Friday and completed two aerial loops using just his custom-made jet-propelled wingsuit -- the first time such maneuvers have been performed.
It was just the latest daredevil stunt by the former fighter pilot who hopes one day to fly through the Grand Canyon.
Rossy, 51, launched himself from a replica of the Breitling Orbiter -- the first balloon to be piloted nonstop around the world in 1999 -- at an altitude of 7,874 feet (2,400 meters) near Lake Geneva. Then he fired up the jets on his new -- smaller and sleeker -- wingsuit to perform the loopings before landing safely with a parachute.
Rossy declared himself "very happy and satisfied" with Friday's stunt, which comes two years after his first successful flights over the nearby Swiss Alps.
The extreme sports enthusiast has since flown across the English Channel and last year tried to cross the Strait of Gibraltar from Morocco to Spain. That attempt ended in failure when Rossy ditched in the sea due to strong turbulence.
Rossy said he is still hoping to fly through the Grand Canyon in Arizona, but is waiting for permission from U.S. authorities.