Israeli gardener discovers remarkable 700-year-old 'Santa Claus' ring
A gardener in Israel has unearthed a rare bronze ring bearing the image of St. Nicholas that dates back to the Middle Ages.
The saint, a Greek Bishop who became famous for his acts of generosity, inspired the figure of Santa Claus.
The 700-year-old ring was discovered during landscaping work at a home in Moshav Yogev, a community in the Jezreel Valley. Gardener Dekel Ben-Shitrit, 26, was weeding when he spotted the artifact last week. "I rubbed it slightly and I saw it was carved with a human image inside a frame," he said, in a statement released by the Israel Antiquities Authority.
MAJOR BIBLICAL DISCOVERY: ARCHAEOLOGISTS MAY HAVE FOUND THE PROPHET ISAIAH'S 'SIGNATURE'
Ben-Shitrit then posted a photo of the ring on Facebook where it was spotted by his neighbor Dr. Bror Ben-Yosef, director of the Israel Nature and Parks Authority's Lower Galilee Education Center. Ben-Yosef then put Ben-Shitrit in contact with the Israel Antiquities Authority.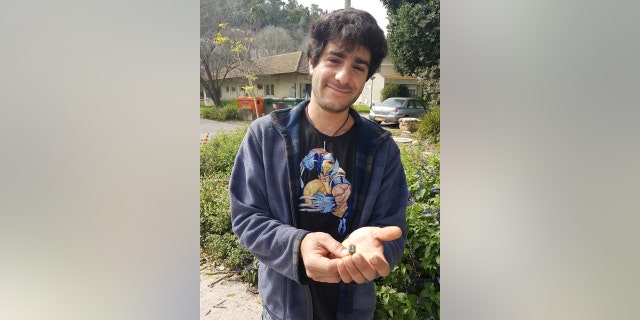 The ring was studied by Dr. Yana Tchekhanovetz, an expert in Byzantine history at the Israel Antiquities Authority. "This special ring is amazingly well preserved and will contribute a great deal to science," she explained, in a statement. "On the ring is the image of a bald man with a staff next to him. On preliminary examination, this seems to be St. Nicholas holding a bishop's crook – his hallmark."
Tchekhanovetz added that, for Eastern Christians, St. Nicholas is considered the patron saint of travelers, as well as pilgrims and sailors. "Christian pilgrims to the Land of Israel from all over the Byzantine Empire (Turkey, the Balkans, Greece and present-day Russia) would carry his icon to protect them from harm," she said. "It is probable that the ring belonged to a pilgrim who sought the protection of St. Nicholas on his travels."
MYSTERIOUS POOL AND FOUNTAIN DISCOVERED AT ANCIENT CHRISTIAN SITE IN ISRAEL
Many historians believe that St. Nicholas died in 343 A.D.
The Israel Antiquities Authority, which recently received the ring from Ben-Shitrit, will be awarding the gardener a good citizenship certificate.
The ring is the latest in a series of incredible Christian finds in Israel. Last month, for example, archaeologists announced the discovery of a large 1,500-year-old pool and elaborate fountain at the site of an ancient church near Jerusalem.
DRONE FINDS MYSTERIOUS ANCIENT STRUCTURE AT ISRAELI MILITARY TRAINING GROUND
Last November, new evidence dated Christ's tomb in Jerusalem's Church of the Holy Sepulchre to the Roman era, matching historical records.
Archaeologists also uncovered a stunning 1,500-year-old Christian mosaic in the ancient Mediterranean coastal city of Ashdod-Yam, now part of the modern city of Ashdod.
In 2015 a 1,500-year-old church was discovered at a Byzantine-era rest stop between Tel Aviv and Jerusalem. In 2014 the remains of another church from the same period were uncovered in southern Israel.
RARE FIND AT KING SOLOMON'S MINES: ANCIENT PREGNANT WOMAN'S REMAINS
Experts also believe they have found the lost Roman city of Julias, formerly the village of Bethsaida, which was the home of Jesus' apostles Peter, Andrew and Philip.
Follow James Rogers on Twitter @jamesjrogers