Indonesia Volcano Eruption Sparks Panic Among Villagers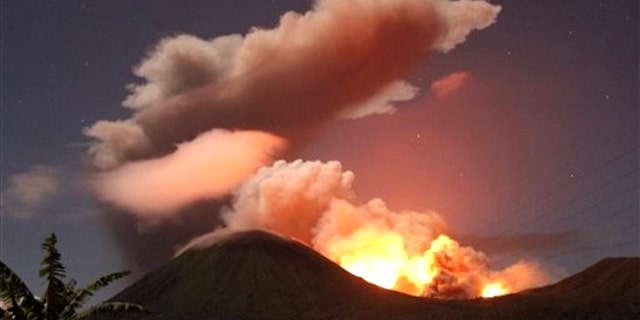 NEWYou can now listen to Fox News articles!
JAKARTA – One of Indonesia's most active volcanoes erupted Tuesday, spewing clouds of ash and panicking villagers but no evacuation has been ordered so far, a government vulcanologist said.
The first eruption at Mount Lokon was at 3:07am local time, followed by two more bursts within minutes, Farid Bina told AFP from a monitoring post near the volcano on Sulawesi island.
"The eruption was heard as far as five kilometers [three miles] away, causing panic among villagers living close to the volcano," he said, adding that winds blew volcanic ash to villages up to three miles (5km) to the east and northeast.
"Two villages with about 10,000 people each have been affected by the ash, which stopped later in the morning," he added.
More than 5,200 people were evacuated to temporary shelters when the 5,184-foot (1,580m) volcano erupted in July, sending huge clouds of ash as high as 11,500 feet (3,500m) into the sky.
Lokon's last deadly eruption was in 1991, killing a Swiss tourist.
The Indonesian archipelago has dozens of active volcanoes and straddles major tectonic fault lines known as the "Ring of Fire" between the Pacific and Indian oceans.
The country's most active volcano, Mount Merapi in central Java, killed more than 350 people in a series of violent eruptions last year.