'Incredible': California has 2nd pack of gray wolves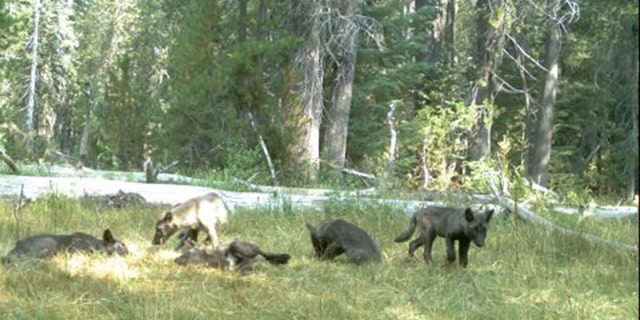 "This is a pretty incredible conservation moment," a rep for the Center for Biological Diversity tells the San Francisco Chronicle following news from California: A second pack of gray wolves has been spotted in the state.
State officials have known for about a year that a pair of gray wolves had hunkered down in Lassen National Forest, reports the San Jose Mercury News.
But after trapping the 75-pound adult female last week, they determined the wolf had recently given birth. After taking samples and fitting the female with a tracking collar, they released her with high hopes.
Later, a trail camera spotted her running around with three pups. A rep for the California Department of Fish and Wildlife says officials are "excited" because "if two packs can be established, then others can get here." Also of note: "The pups are really cute." The first gray wolf pack in California in nearly a century—made up of a male, female, and five pups—was spotted in Siskiyou County in 2015.
The Siskiyou wolves are likely distant cousins to those in Lassen National Forest, officials say. But whereas the Siskiyou pack is descended from a wolf pack in northeast Oregon, the Lassen pack is descended from OR7, the first gray wolf to appear in California following the animal's extinction there in 1924.
Specifically, one of OR7's sons is the mate of the female wolf captured last week. New granddad OR7 now resides in Oregon. (Wolf hunting may resume in these states.)
This article originally appeared on Newser: 'Incredible': California Has 2nd Pack of Gray Wolves