'Huge' rattlesnake's loud warning to Mississippi man goes viral
As a forester, Joseph Hosey comes across snakes pretty much every day. But two weeks ago, a 5-foot eastern diamondback rattlesnake stopped the 37-year-old in his tracks.
Hosey was tired and hungry, walking around a forest in Greene County, Mississippi, on a day with a 110-degree heat index when he spotted the speckled reptile about 20 yards away. The snake was coiled up next to a tree stump, shaking its tail rapidly as Hosey approached.
"He was huge. He was the biggest diamondback I've ever seen personally," Hosey told Fox News, adding that he's been working as a forester for about seven years now.
Hosey was fascinated by reptiles as a child. He spent hours reading books about them in the library and even had a few as pets.
RATTLESNAKE TERRIFIES NORTH CAROLINA BOATERS AS IT SWIMS ACROSS LAKE, ATTEMPTS TO SLITHER ABOARD
"My teenage bedroom looked like cross between a library and a zoo — aquariums everywhere. I had different reptiles, from turtles to frogs to snakes," Hosey recalled.
So, the forester knew to keep his distance as he worked by the snake.
The eastern diamondback is the largest venemous snake in the U.S., reaching up to 8 feet in length as a mature adult. The snake typically keeps quiet and blends into its environment, only making noise or striking if it feels threatened.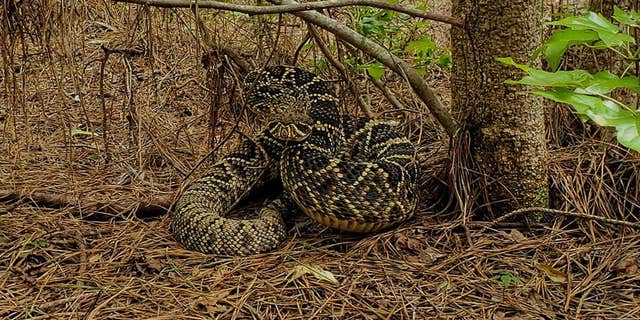 "Under other circumstances or if outwardly challenged, an eastern diamondback may rattle and blow loudly, and subsequently bite if approached to within striking range," the Mississippi Wildlife, Fisheries and Parks explains on its website.
Hosey filmed his hair-raising encounter with the rattlesnake, posting the footage on Facebook. The video has garnered nearly 60,000 views since Monday evening — with dozens of people commenting on the impressive size of the reptile.
"Huge so fat wonder what it ate!" one Facebook user asked.
"Impressive Joseph. She appears to be pregnant so I'd expect to find 16-20 more on your next visit. Much smaller of course lol," another joked.
TENNESSEE WOMAN BITTEN BY BROWN RECLUSE SPIDER ALLEGEDLY FINDS DOZENS MORE IN APARTMENT
"They grow them big in that part of the world," one man added.
Hosey agreed the snake was large, adding that rabbits probably made up most of its diet.
When he was younger, Hosey admitted he used to catch rattlesnakes for "the fun of it." But now the 37-year-old simply admires them from afar, setting a good example for his children.
"Fear and ignorance is what kills these animals," he wrote on Facebook. "I'm walking through their habitat daily and year round. Usually I dont even slow down long enough to get a picture but this guy was impressive. I'm there making a living just like they are and I'm in their home."
Hosey said he got within 10 to 15 feet of the rattlesnake before it started rattling repeatedly, signaling "it was time to go home."
"He got my attention," Hosey joked. "That was my sign to call it a day."