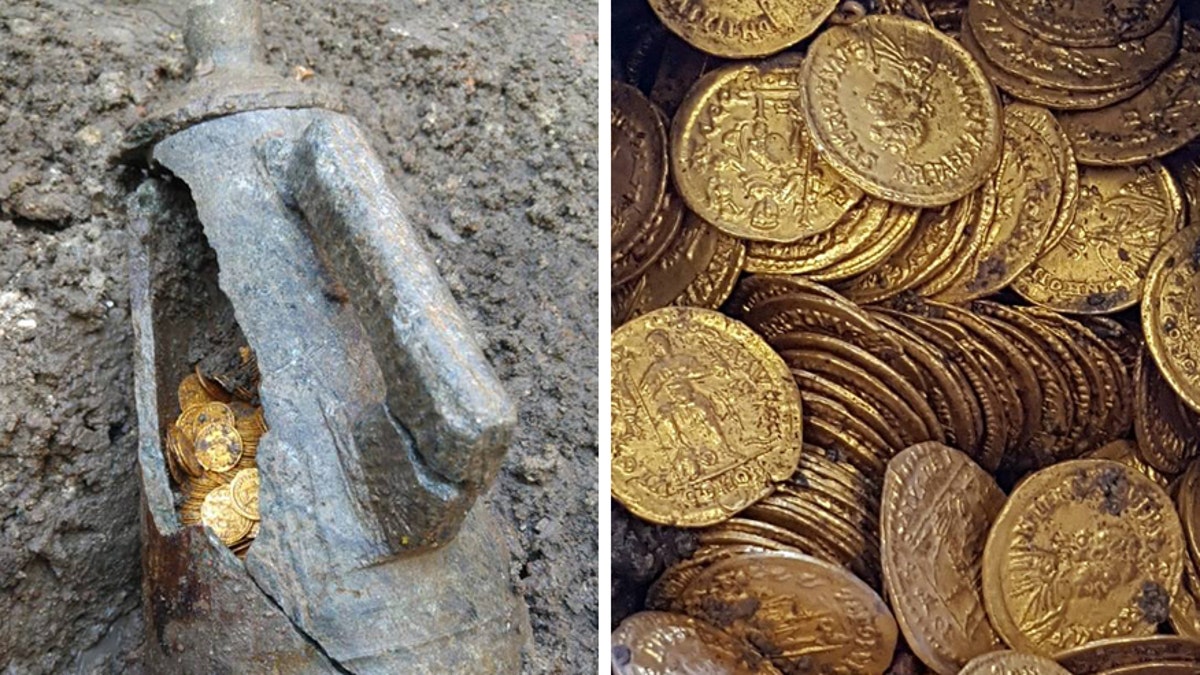 Hundreds of Roman gold coins have been unearthed in the basement of an Italian theater.
The coins were found in a stone container during excavations at the site of a former theater in Como, northern Italy, according to the country's Ministry of Cultural Heritage and Activities (MiBAC).
The hoard has been dated to the late Imperial era, which goes back to the 5th century.
"We do not yet know in detail the historical and cultural significance of [the] finding," said Italian Culture Minister Alberto Bonisoli, in a Facebook post, noting that the area is full of archaeological treasures. The discovery, he added, "fills me with pride."
ARCHAEOLOGISTS HAVE DISCOVERED THE 'CRUSHED' POMPEII MAN'S SKULL, AND IT WILL SURPRISE YOU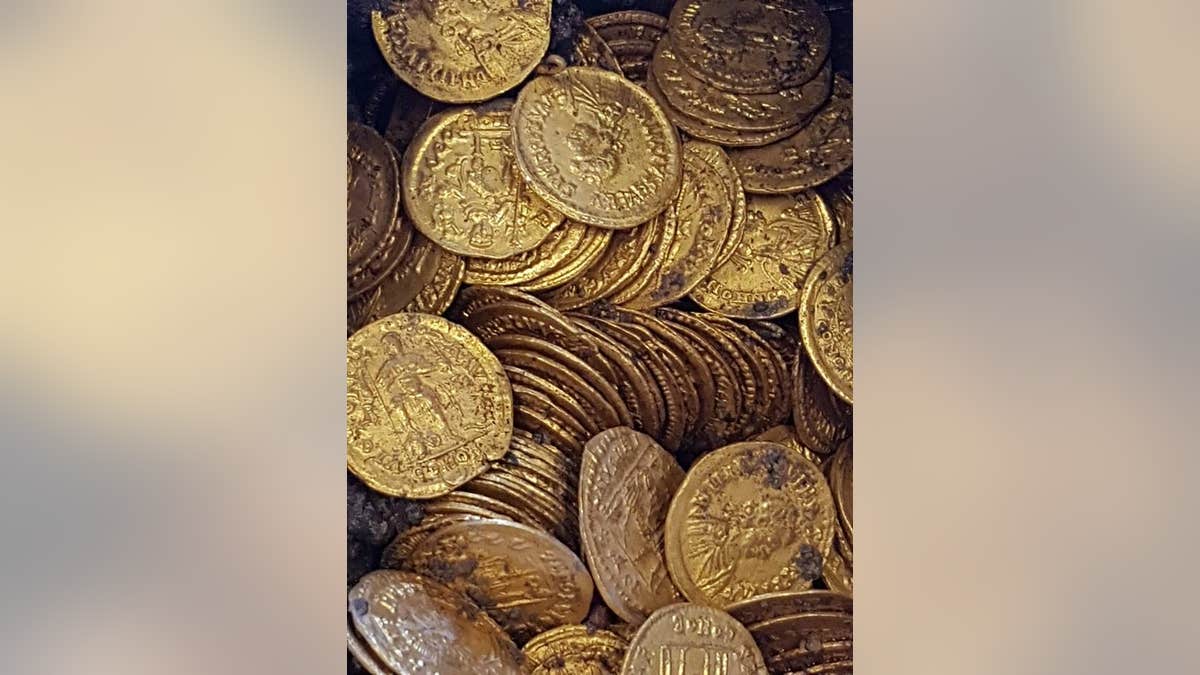 The coins were found at the site of the 19th-century Teatro Cressoni, which closed in 1997, Euronews reported.
The trove of coins is the latest fascinating Roman-era find in Italy. Not long ago, images of a man's skeleton, apparently crushed by a rock during the ancient eruption of Mount Vesuvius, went viral after their discovery.
The excavation at the ancient Roman city of Pompeii, near modern Naples, unearthed the remains of the man who was thought to have been crushed while attempting to flee the eruption in 79 A.D.
ROMAN 'HAND OF GOD' UNEARTHED BY ARCHAEOLOGISTS NEAR HADRIAN'S WALL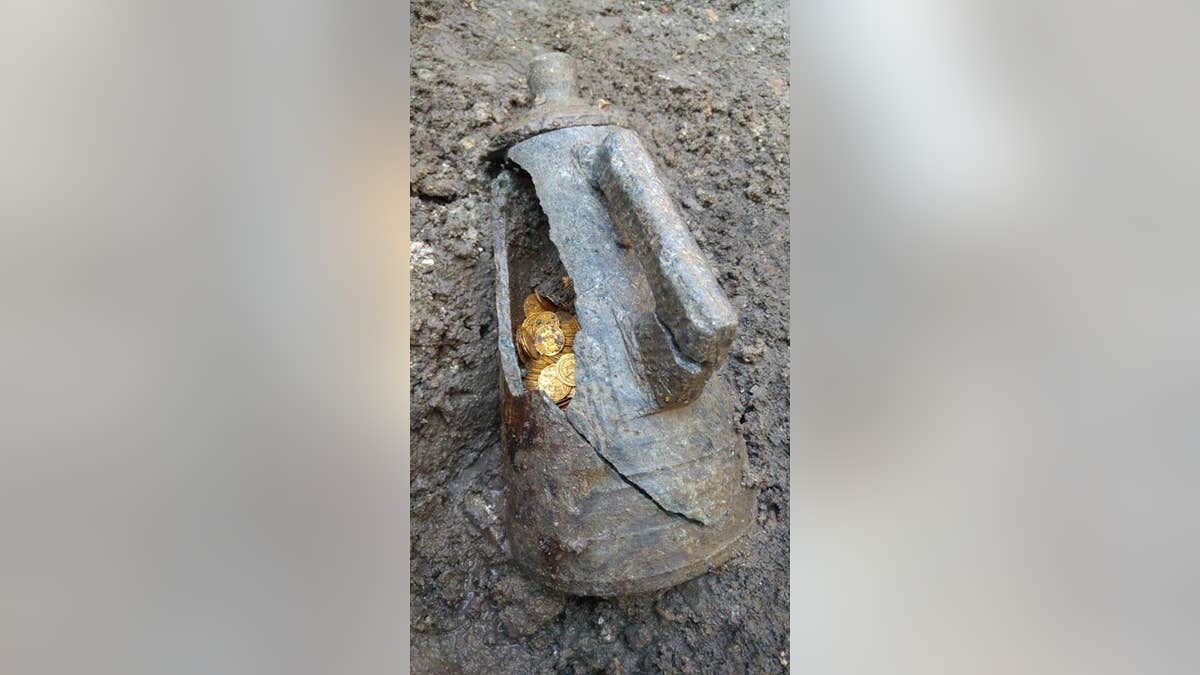 Archaeologists also recently unearthed the final resting place of an ancient racehorse among the ruins of Pompeii.
Last year, construction of Rome's new subway unearthed the charred ruins of an early 3rd-century building and the 1,800-year-old skeleton of a crouching dog that apparently perished in the same blaze that collapsed the structure.
In the U.K. a mysterious Roman bronze hand was recently discovered by archaeologists near Hadrian's Wall in the North of England.
ANCIENT ROMAN BOXING GLOVES DISCOVERED NEAR HADRIAN'S WALL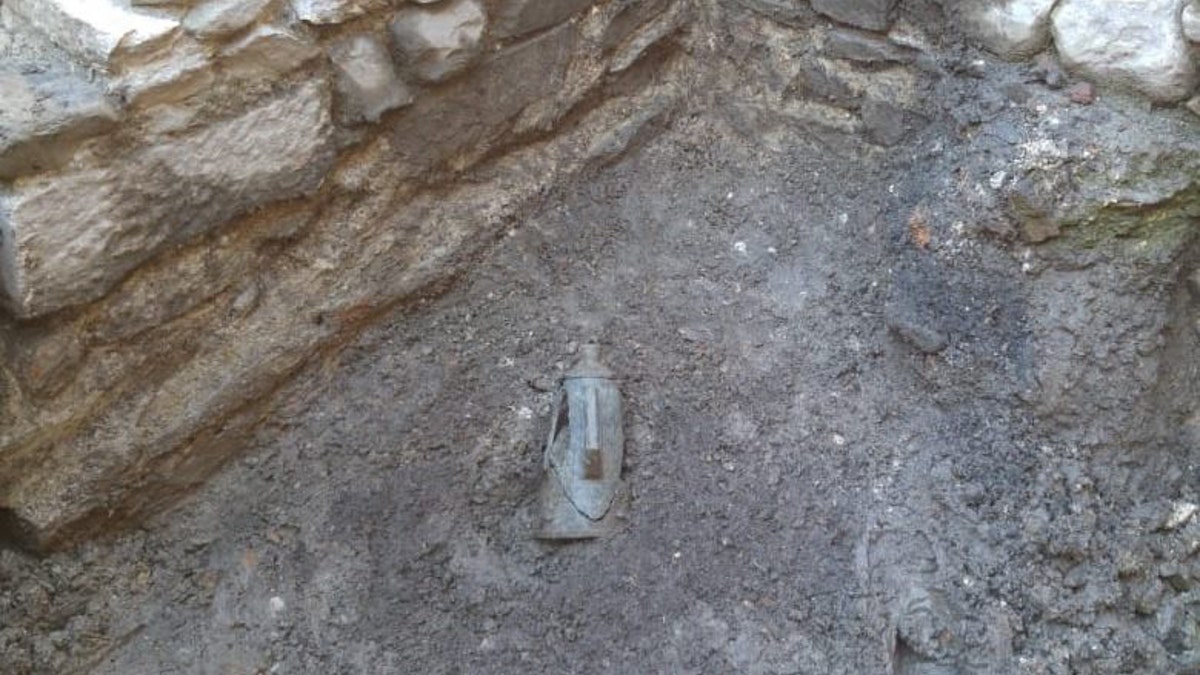 Earlier this year, archaeologists also unearthed ancient boxing gloves at the site of Vindolanda, an ancient Roman fort just south of Hadrian's Wall.
An exquisite Roman-era mosaic was recently uncovered by archaeologists in Israel. Experts discovered the stunning 1,700-year-old artifact in the city of Lod, in central Israel.
The Associated Press contributed to this article.
Follow James Rogers on Twitter @jamesjrogers