Huge 3,000-year-old gold 'belt' unearthed in the UK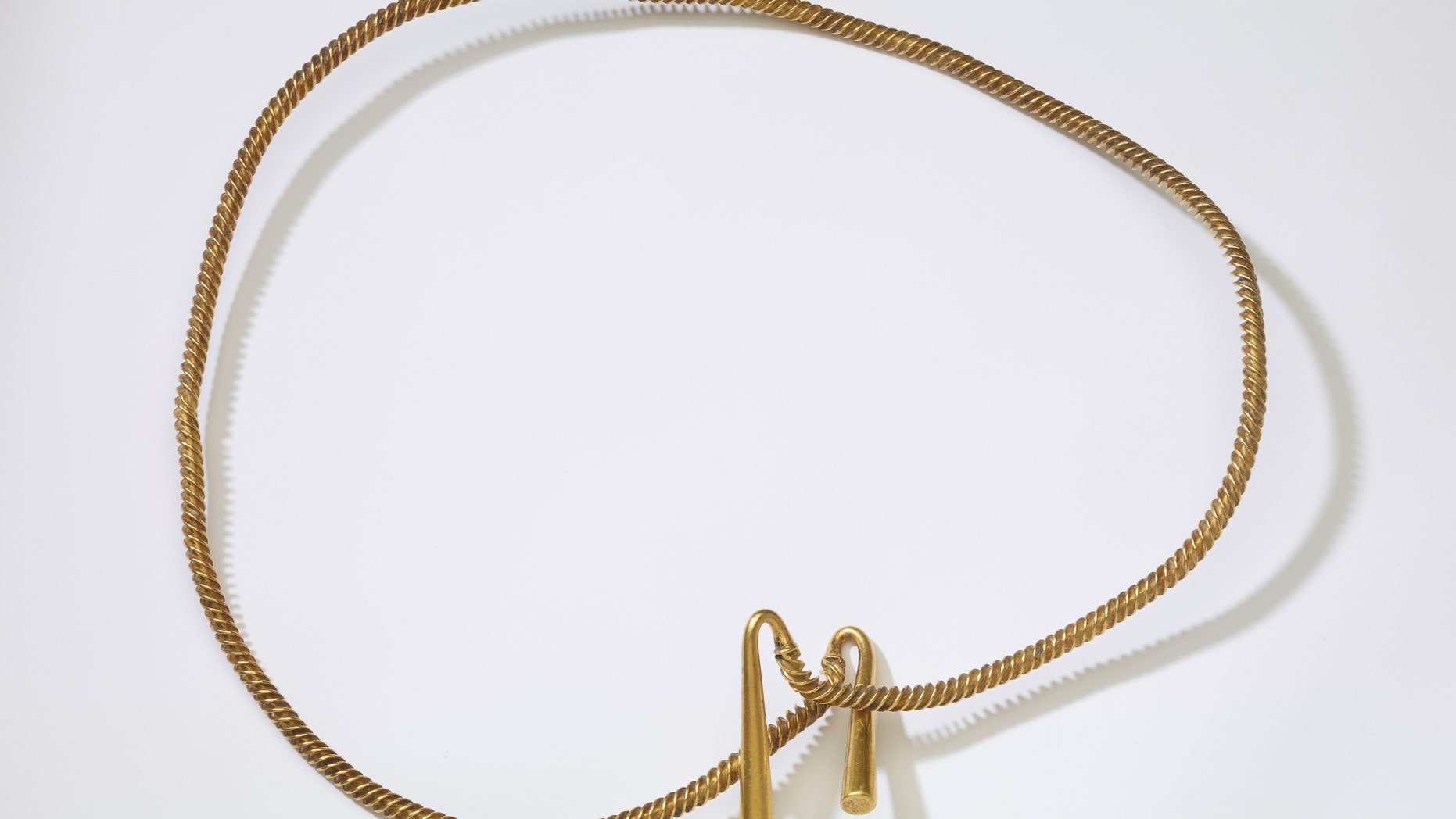 A mysterious 3,000-year-old gold torc, described as one of the largest ever discovered, has been unearthed in the U.K.
Discovered in Cambridgeshire last year, the torc, which dates from between 1300 and 1100 B.C., went on display at the British Museum in London this week.
ALTAR OF VIKING SAINT-KING DISCOVERED IN NORWAY
Torcs were traditionally worn around the neck, although the massive size of the Cambridgeshire artifact indicates that it may have been used as a belt. Extended, the torc measures 49.6 inches, so may have been worn over thick winter clothing or as a sash across the body, according to the British Museum.
Another possibility is that the torc was not worn by a human at all, but may have been worn by a prized animal intended for sacrifice.
A British Museum spokeswoman told FoxNews.com that the torc may also have been placed around the waist of a pregnant woman, perhaps to protect them in the course of ceremonies.
FARMER'S FIELD YIELDS HOARD OF ENGLISH CIVIL WAR COINS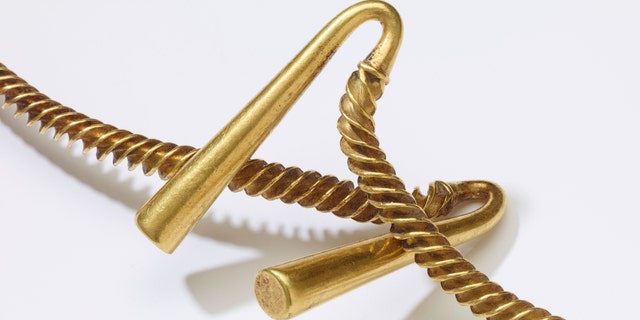 Made of 20 carat gold, the torc weighs 1.6 pounds.
Scientists at the British Museum studied the torc and found little evidence of use on the solid gold terminals used to fasten the torc together, raising questions about its original function. "Bronze Age torcs are rarely found on bodies in graves in a press release.of the period so we don't really know how or why they were made or worn," explained the spokeswoman for the British Museum."
MEDIEVAL SIN-WASHING WELL IS UNCOVERED
The artifact is one of the largest and heaviest gold objects ever found from Bronze Age Britain or Ireland, and came to the British Museum through the U.K. Government-funded Portable Antiquities Scheme (PAS). The scheme encourages the voluntary recording of archaeological objects found by members of the public in England and Wales.
The torc is one of more than 82,000 archaeological finds made by the British public last year, according to the Museum. Other 2015 finds displayed at the British Museum this week included an enameled Anglo-Saxon hanging bowl mount and a hoard of 17th-century silver coin clippings.
"These finds, and others, are rewriting the archaeology and history of Britain," explained the British Museum, in its press release.
IRON AGE BREW RECREATED FROM ANCIENT CAULDRON'S REMNANTS
With its rich history, the U.K. offers plenty of opportunity for fascinating archaeological finds, such as the hoard of English Civil War coins that were recently found in a farmer's field or the medieval 'sin-washing well' uncovered near Liverpool.
Follow James Rogers on Twitter @jamesjrogers