How scientists track Hurricane Florence with a 'forecast cone'
As Hurricane Florence steadily makes its way toward the southeastern part of the U.S., meteorologists have issued repeated warnings of expected rainfall, flash flooding, high-intensity winds and even mudslides.
The storm -- which is said to be life-threatening and a once-in-a-generation event for residents in the Carolinas and Mid-Atlantic states -- has also led officials to issue mandatory evacuations of coastal areas of North and South Carolina and Virginia, affecting an estimated 1 million people.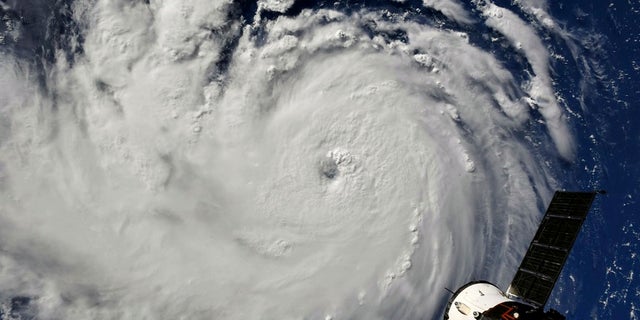 But how exactly do scientists know how close the storm is and where it's headed?
HURRICANE FLORENCE'S PATH: TRACK THE STORM HERE
Every few hours, the National Hurricane Center (NHC) releases updated information regarding the storm's location and projected path by using the NHC's "forecast cone."
The cone, which represents the "probable track of the center of a tropical storm" is "formed by enclosing the area swept out by a set of circles along the forecast track (at 12, 24, 36 hours, etc)" the NHC says on its website.
The cone "is trying to take in some of the uncertainty and show all areas of risk," Joel Cline, a meteorologist and tropical storm coordinator with the National Oceanic and Atmospheric Administration (NOAA), told Fox News on Tuesday.
"Instead of showing a single, definitive line of a track, the cone takes care of two-thirds of the possible track," he said.
In other words, scientists recognize that their predictions may not be 100 percent accurate and are subject to change.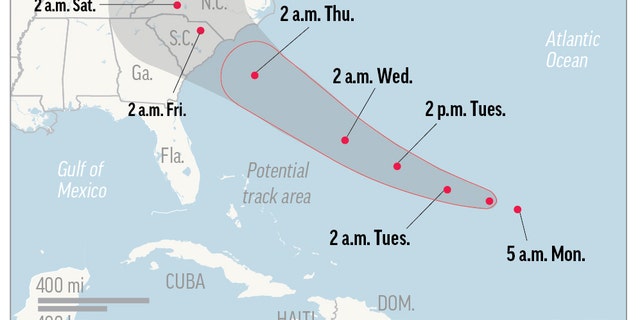 Cline used the analogy of a ball and a velcro mitt to explain how the accuracy of meteorologists' forecasts improve as the storm gets closer. The ball has a greater chance of hitting and sticking to the center of the mitt when the thrower gets closer to the catcher. The same is true when predicting the path of tropical storms.
"Things [can be] uncertain, especially this far out. But as it gets closer, the certainty gets better," he said. "Our odds of being able to determine the place of impact is greater as the storm gets closer."
To develop a forecast cone, scientists look at a variety of models that determine the path the storm will most likely take.
HURRICANE FLORENCE TO TRIGGER MUDSLIDES? WHY THE STORM'S POTENTIAL EFFECT HAS SCIENTISTS ON EDGE
Scientists then compare the models, looking for agreements in each. The more consistent the models are with one another, the narrower the cone can be, according to The Baltimore Sun. To provide the most up-to-date forecast cone throughout the day, scientists are constantly analyzing the storm's location and wind-speed, among other factors, the newspaper reported.