How a group of Holocaust survivors planned to poison millions of Germans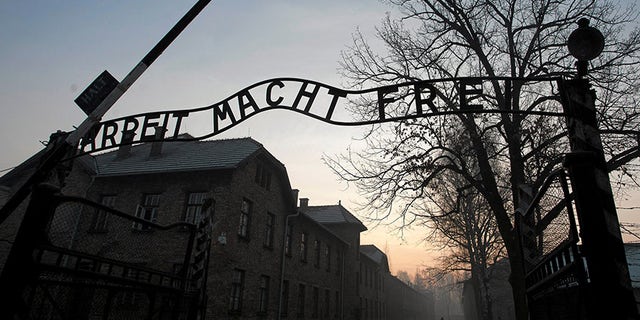 A new documentary with never-before-seen footage and evidence will detail how a group of concentration camp survivors, known as the Avengers, planned to poison six million Germans as retribution for the Holocaust.
The film, entitled "Holocaust: The Revenge Plot," details the revenge plans of Vilnius Ghetto resident Abba Kovner and Yehuda Maimon, Simcha Rotem and Hasia Warshawski. It also describes their horrific wartime experiences .
Yehuda Friedman likened the horrors witnessed as something "that not even the devil can imagine." Also featured in the film is Chaim Miller, a soldier in the British Army's Jewish Brigade. Miller was part of a vigilante group that tried to assassinate alleged SS soldiers in hiding.
WWII SOLDIERS DUMPED INTO MASS GRAVE AFTER SHIPWRECK SCAVENGED, REPORT SAYS
Kovner, a Jewish resistance fighter, details his recollections of the plan and put them on recorded tape in 1985 while he was dying of cancer. The plan included poisoning the water supply in several German cities, as well as a second plot to murder thousands of SS officers who were being hidden in an American prisoner of war camp. Prior to his death, Kovner became a famous Israeli poet. He ultimately passed away in September 1987.
Revelations included in the documentary, which will be screened on Jan. 27, at 9 p.m. local time in the UK to mark Holocaust Memorial Day, include:
How the Avenger agents infiltrated the waterworks of four German cities - Hamburg, Nuremberg, Frankfurt and Munich - in order to poison the water supplies
How two future presidents of Israel, Chaim Weizmann and Efraim Katzir were claimed to have been involved in helping the Avengers acquire the poison
How a second attempt at mass murder - targeting some 50,000 SS officers held in POW camps in Nuremberg and Munich - may have partially succeeded
HITLER WWII 'ESCAPE' INVESTIGATED BY THE CIA, BOMBSHELL DOCUMENT REVEALS
Here is a trailer for the film:
"We are proud to have this remarkable film," said commissioning editor Rob Coldstream in a press release. "Both intensely moving and deeply shocking, it packs a real emotional punch — and by flipping the traditional Holocaust narrative on its head, asks profound questions about the nature of justice."
Dinah Lord of Caravan Media, who co-executive produced the film, said, "This is an incredible story that very few people will know, told from the first-hand perspective of the last survivors directly involved and based on extensive research which has unearthed remarkable new evidence."
The Holocaust was a mass genocide during World War II where Adolf Hitler's Nazi Germany was responsible, along with its cohorts, for the murder of six million European Jews and approximately 17 million victims in total.
Follow Chris Ciaccia on Twitter @Chris_Ciaccia