Heidi the Cross-Eyed Opossum Is on a Diet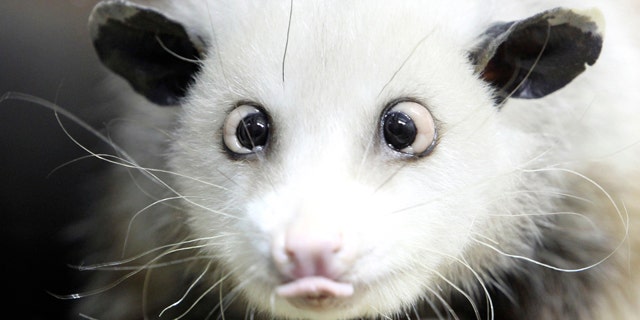 NEWYou can now listen to Fox News articles!
A strict diet may help the Leipzig Zoo's opossum Heidi to lose the crossed eyes that have made her an international attraction.
The overweight white-haired opossum has been on a steady diet of lettuce, carrots and lean chicken to cut down on her fat -- which is thought to be the cause of her crossed eyes, a Leipzig Zoo spokeswoman said on Monday.
"Heidi has been on a diet since she arrived last May," spokeswoman Maria Saegebarth said. "Her eyes could go back to normal but at this moment we don't know."
The nocturnal marsupial has lost 400 grams (about one pound) since her arrival in Leipzig, Saegebarth said, adding that Heidi's thick tail has slimmed letting her use it more naturally while climbing.
It is believed that Heidi's crossed eyes could have come from a poor diet when she was young, causing large fat deposits to form behind her eyes.
Heidi became a star in Germany when her photo appeared in the mass-circulation newspaper Bild in December. The 2-1/2-year-old opossum's German celebrity soon grew into an international sensation.
Her Facebook following exceeds 285,000 fans and she has even spawned a popular song on YouTube and her own plush toy, echoing the global fame of other animal attractions in Germany -- the late oracle octopus Paul and polar bear Knut.
Heidi's popularity has reached deep enough into U.S. mainstream culture that she has recently received an offer to appear in Academy Award-oriented television programming on Feb. 27, the zoo said.
Heidi will not fly to the United States if she is to appear on American television, the zoo said. The zoo has previously said that it will shy away from marketing Heidi and treat her as just another animal in the zoo.