Hawaii's Kilauea volcano erupted for a second time this year Wednesday morning, and according to the U.S. Geological Survey (USG), the lava flows are currently confined to the volcano's surrounding crater.
The USGS Hawaiian Volcano Observatory (HVO) reported at approximately 4:44 a.m. HST, or 10:44 a.m. ET, Kilauea volcano inside Hawai'i Volcanoes National Park, began erupting.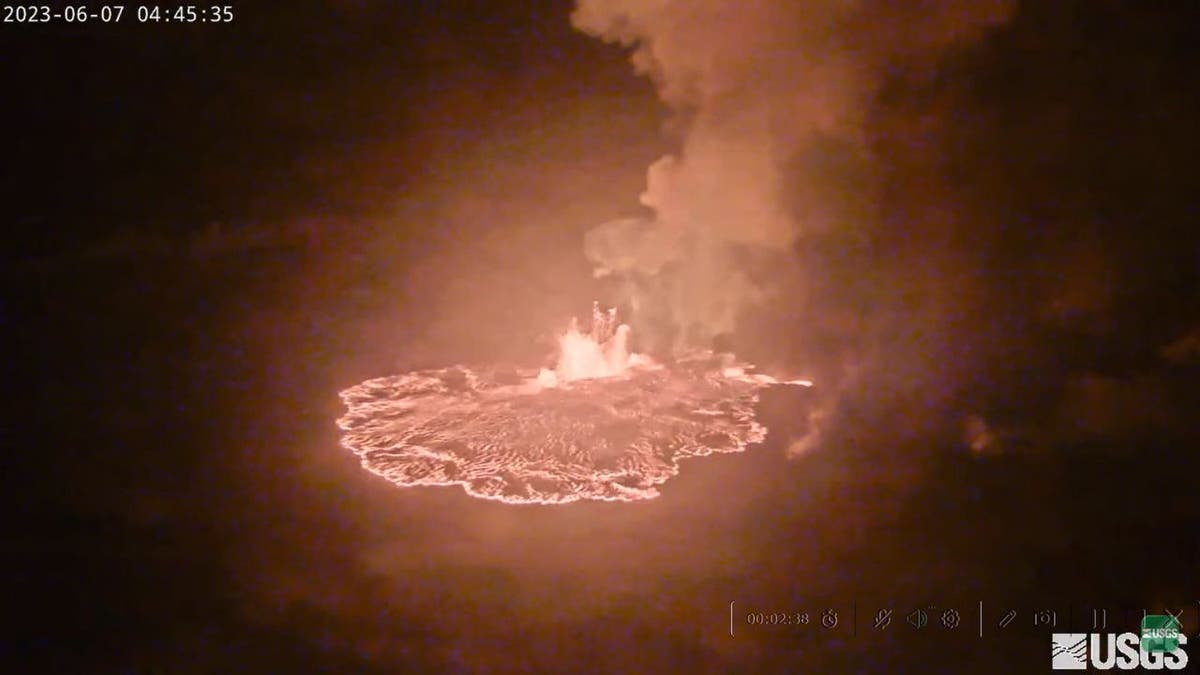 Video capturing the eruption showed the night sky light up as lava and fire shot into the sky and began to fill the crater surrounding the volcano.
PHOTOS SHOW HAWAII'S KILAUEA VOLCANO ERUPTING AGAIN
"#Kilauea is currently erupting from the #Halemaumau summit crater," the USGS tweeted. "HVO will be releasing an update soon. USGS livestream is showing the action…"
The agency posted a video taken by geologists from the HVO showing the west rim of the crater, with multiple active vents and lava flooding the crater basin.
According to the USGS, the eruptive activity is confined to the Halema'uma'u crater within Kilauea's summit caldera.
HAWAII'S KILAUEA VOLCANO STOPS ERUPTING AFTER 61 DAYS OF ACTIVITY
It also said none of the activity is unusual along the East Rift Zone or Southwest Rift Zone, though the volcano's alert level and aviation color code were to remain WARNING/RED as the eruption and associated hazards are elevated.
The eruption is occurring in a closed area of Hawai'i Volcanoes National Park, leaving the volcanic gas as the primary hazard of concern.
Volcanic gas, the USGS said, is primarily made up of water vapor, carbon dioxide and sulfur dioxide. The concern is volcanic gas can have far-reaching effects down-wind, creating a visible haze known as vog, or volcanic smog.
HAWAII'S KILAUEA NOT ERUPTING, SCIENTISTS SAY, REVERSING WARNING
Vog, the USGS added, poses a hazard to humans, crops and livestock.
Kilauea is one of the world's most active volcanoes with its previous eruption in January 2023 and lasting 61 days.
CLICK HERE TO GET THE FOX NEWS APP
Prior to that, Hawaii's second-largest volcano erupted in September 2021 and the volcanic activity lasted for 16 months.