Hawaii's Kilauea volcano erupts, mandatory evacuations ordered for more than 1,000 people
Red molten lava continued to spurt into the sky Friday morning hours after Hawaii's Kilauea volcano erupted, forcing officials to issue widespread evacuation orders to more than 1,500 residents.
Aerial drone footage showed a line of lava snaking its way through forest land and bubbling up on paved streets near the town of Pahoa on the Big Island. Elsewhere, lava spurted into the sky from cracks in the road.
The activity continued early Friday with the Hawaiian Volcano Observatory confirming reports of eruptions from volcanic vents on at least two streets.
All residents in the area were ordered to evacuate immediately.
Jeremiah Osuna, who captured the drone footage, described the scene as a "curtain of fire" roaring through the landscape.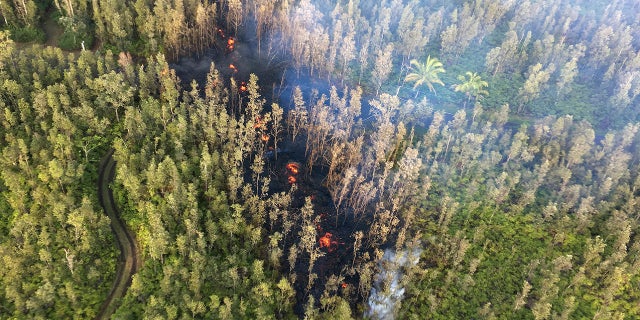 "It sounded like if you were to put a bunch of rocks into a dryer and turn it on as high as you could," he told Honolulu's KHON-TV. "You could just smell sulfur and burning trees and underbrush and stuff."
There were no immediate reports of injuries, however more than 100 people were staying in shelters.
Gov. David Ige activated the National Guard to help with evacuations and provide security for about 770 structures left empty by residents fleeing the area.
One homeowner in the Leilani Estates subdivision, which is near the town of Pahoa on the eastern side of the Big Island, said he knew when he bought a house near a volcano that this day might eventually come.
"But I had no idea the reality of [it]," he told Hawaii News Now. "It's sinking in now, for sure."
He added: "My family and my pets are safe. That's what I really care about. I mean, the rest is just stuff. We can make more money and get more stuff. My family is safe. That's the main thing."
Fire officials warned that they've detected extremely high levels of sulfur in the area and reiterated that people should leave until the threat has passed.
"The best thing they can do right now is stay out of the area. It's not a stable situation at all," Talmadge Magno of Big Island's Civil Defense told the Hawaii News Now. "This is not over, it could escalate at any time. We don't know how this is going to go."
Officials said the eruption sent lava soaring as high as 125 feet into the air and stressed that new lava outbreaks remain a high possibility. They said they cannot predict how long the eruption could last.
Asta Miklius, a geophysicist with the USGS Hawaiian Volcano Observatory, told the Associated Press the volcano has "quite a bit of magma in the system."
"It won't be just an hours-long eruption probably, but how long it will last will depend on whether the summit magma reservoir gets involved," Miklius said. "And so we are watching that very, very closely."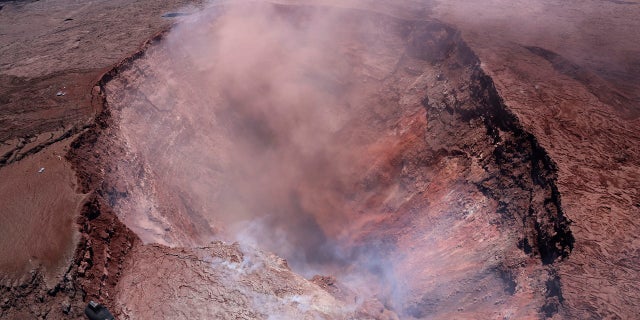 Henry Calio said the first sign that something might be wrong happened when cracks emerged in the driveway of his home in Leilani Estates. His wife, Stella, then received a call from an official who told them to get out immediately.
The two feared that they might lose their house.
"This is our retirement dream," Henry Calio said.
Kilauea has erupted periodically for decades. Most of its activity has been nonexplosive, but a 1924 eruption spewed ash and 10-ton (9-metric ton) rocks into the sky, leaving one man dead.
Puu Oo's 1983 eruption resulted in lava fountains soaring over 1,500 feet (457 meters) high. In the decades since, the lava flow has buried dozens of square miles of land and destroyed many homes.
The Associated Press contributed to this report.