Hawaii volcano prompts new warning -- heed evacuation order or face arrest
As molten lava continued spewing from Hawaii's Kilauea volcano Thursday, Hawaii County ordered all residents of a designated portion of the hard-hit Leilani Estates development to evacuate by Friday morning or face possible arrest.
Big Island Mayor Harry Kim declared a roughly 17-block swath of the estates "off limits indefinitely" and gave residents 24 hours to get out by 12:06 p.m. local time Friday, Reuters reported.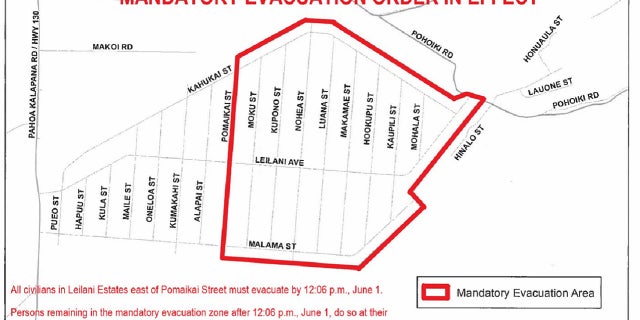 Those remaining in the mandatory evacuation area beyond the deadline "do so at their own risk, with the knowledge that emergency responders may not respond," the Hawaii County Civil Defense Agency said in a statement.
The mandatory evacuation zone lies within a slightly larger area that was already under a voluntary evacuation order and curfew, Reuters reported.
The county agency also said anyone in violation of the order will be liable for any costs associated with rescue operations.
NEWEST HAWAII VOLCANIC ASH PLUME RISES TO ABOUT 10,000 FEET
Meanwhile, Leilani Estates residents west of the mandatory zone were "strongly encouraged to evacuate," the county said.
"You are at risk of being isolated due to possible lava inundation," the civil defense agency warned earlier this week.
The mandatory evacuation order "gives the county greater enforcement authority" and relieves first responders of risk during rescues, a spokesman for the Federal Emergency Management Agency (FEMA), who is assisting the county, told Fox News, echoing what the Hawaii county agency said.
"There are no plans to go into the restricted area after 12:06 p.m. Friday and search for anyone who might still be there," he said. "But anyone found in the area after that time could be subject to arrest."
"Refusing to evacuate may put you, your family and first responders in danger," the county agency added. "Heed warnings from Civil Defense officials and stay alert."
The Kilauea Volcano, which erupted four weeks ago, has destroyed more than 80 homes and other structures, Fox News reported.
On Thursday, lava bubbling to the surface was the hottest and most fluid it has been since the Hawaii volcano erupted, with the temperature estimated at more than 1,650 degrees -- with no upper limit in sight, warned Wendy Stovall, a volcanologist with the U.S. Geological Survey.
"There's no sign we're getting that anything is going to slow down at the moment," Stovall told reporters, according to Reuters. "We don't see any changes occurring."
Fox News' Daniel Gallo contributed to this story.