Haunting photos of Japanese mini-submarine sunk during Pearl Harbor attack
The National Oceanic and Atmospheric Administration has released photographs of a Japanese mini-submarine that was sunk at the very beginning of the Pearl Harbor attack in 1941, and they're haunting.
On Wednesday, the 75th anniversary of the "date which will live in infamy," the NOAA ship Okeanos Explorer dispatched a robotic vehicle to explore two Japanese mini submarines, an event that they live-streamed.
In what marks the first US shots fired in World War II, the USS Ward fired at one mini-sub on the morning of December 7, 1941, sinking it, after it was first spotted attempting to enter the harbor, partially submerged. Ninety minutes after the Ward sunk the sub, the aerial attack by the Japanese began.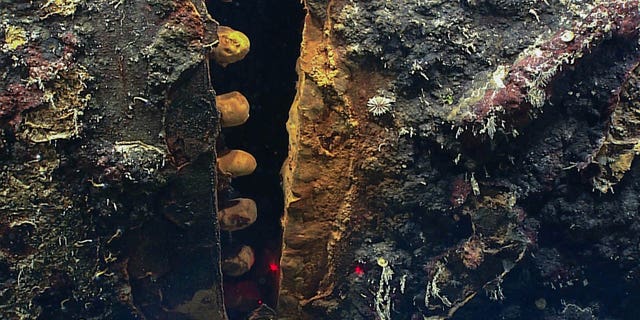 The first submarine NOAA explored-- the one sunk by the Ward-- had changed a great deal since the last visit to the wreck, with a peeling hull, two sections that separated from one another, and lots of biological growth, NOAA scientists report.
NOAA WILL LIVESTREAM DIVES TO JAPANESE MINI SUBS NEAR PEARL HARBOR
"Until now, only a handful of explorers and scientists have seen these relics of the war in the deep sea," James Delgado, the director of maritime heritage, NOAA Office of National Marine Sanctuaries, said in a statement before the dive, "but thanks to technology, anyone and everyone can now dive with us in the first live exploration of the 'midget' submarines that represent the beginning of the war in the Pacific."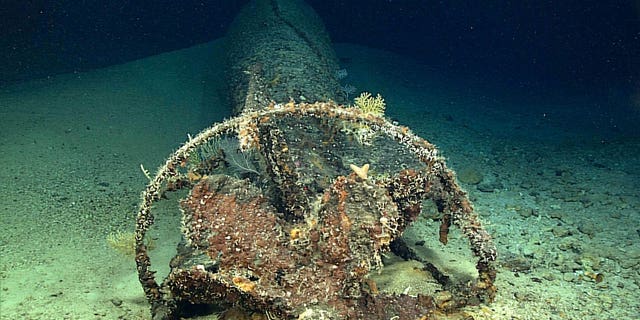 The marine archaeologists involved in the exploration of the wreck hail from NOAA's Office of National Marine Sanctuaries and Office of Ocean Exploration and Research.
"The aft ends of the torpedo tubes and mechanisms are visible through the gap at flange," the scientists reported in a document with their observations about the sunken sub provided to FoxNews.com by NOAA. "This was for us a reminder of not only the deadly intent of the mission, but also its failure."
SUNKEN AMERICAN WWII TORPEDO BOMBER DISCOVERED IN PACIFIC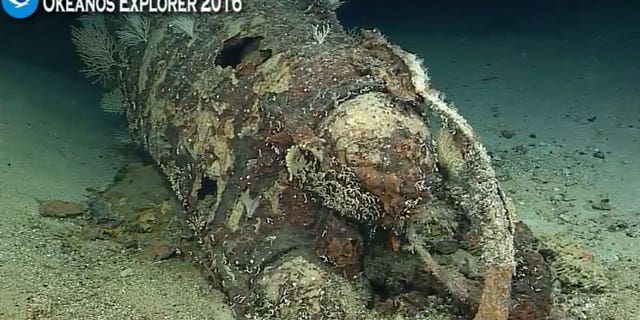 In another corner of the Pacific, in May of this year the Scripps Institution of Oceanography announced that they'd discovered the wreck of an American torpedo bomber sunk by Japanese forces in June of 1944; that crash had three MIAs associated with it.
Follow Rob Verger on Twitter: @robverger