Google this: Israeli scientists eye $20M moon race prize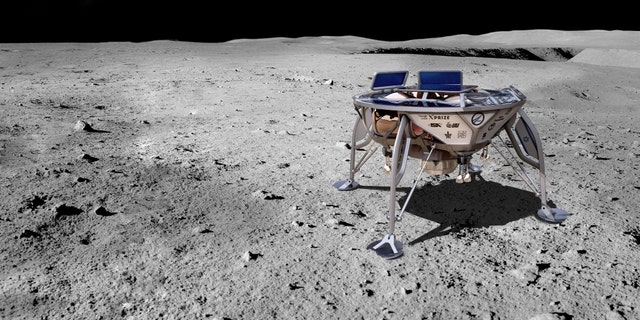 Israeli scientists are confident that their SpaceIL spacecraft will clinch the $20 million Google Lunar XPRIZE to land an unmanned probe on the moon by the end of next year.
SpaceIL is one of the leading contenders among the 16 teams vying for the Lunar XPRIZE. The competition offers a $20 million prize to the first privately-funded team to land a rover on the moon by the end of 2017.
After landing on the moon, the craft must move 1,640 feet across the lunar surface and send high-definition pictures (including a selfie) and video back to Earth. The second team to successfully complete the mission will be awarded $5 million. Teams, however, must prove that 90 percent of their mission costs were funded by private sources.
Last year SpaceIL signed a launch contract with satellite specialist Spaceflight to carry its moon probe on a SpaceX Falcon 9 rocket. The Israeli team's launch is scheduled for the second half of 2017.
Related: Digital Mars map shows contours, legend
Rival team Moon Express announced a contract with Rocket Lab last year to launch three robotic spacecraft to land on the Moon starting in 2017.
In order to reduce the cost of the mission, SpaceIL will share its space 'ride' with a number of satellites. SpaceIL co-founder Yonatan Winetraub told FoxNews.com that the satellites will be released into orbit first, with SpaceIL the last craft to leave the rocket. The rocket's engine will be ignited to provide SpaceIL with a final boost, he added.
After separating from the Falcon 9 rocket, SpaceIL will undertake the final stage of its journey to the moon, a trip that will take significantly longer than NASA's Apollo missions of the '60s and '70s.
Winetraub, a doctoral student in biophysics at Stanford, explained that on a direct trajectory, such as those used by the Apollo missions, it usually takes three days to get to the moon. However, SpaceIL's craft is expected to take a couple of months to reach its destination after separating from the rocket. "Because the Falcon 9's trajectory is not purely determined by the SpaceIL moon mission, SpaceIL will need to do more maneuvering in space to get the spacecraft to the moon," he said. "We will carefully time SpaceIL's engine's 'burns' to space to specific locations and for specific durations."
Related: Fears grow that Philae comet lander may never wake up
Then, of course, the spacecraft has to complete a tricky moon landing.
"Landing is the most difficult part of the mission for multiple reasons," said Winetraub, noting that SpaceIL will control its own landing, removing the risk of delayed messages from mission control. "It takes radio signals traveling at the speed of light 2 to 3 seconds in total to send and receive messages – the spacecraft is traveling at 2 kilometers a second at that point."
Instead, SpaceIL will use a sophisticated accelerometer and gyrometer called an Inertial Measurement Unit (IMU) to help control its descent, a sensor that measures distance to the moon, and a 'Star Tracker' device that uses stars for navigation. "It's an advanced version of using the North Star for navigation," said Winetraub.
So, how will SpaceIL avoid the fate of the Philae lander, which made history when it landed on comet 67P/Churyumov-Gerasimenko in 2014, but then bounced twice, leaving scientists uncertain about its exact location. After touching down in the correct location, the probe's first bounce lasted 2 hours and took the craft up to a distance of more than half a mile. The second bounce was a small jump of just over an inch per second for 7 minutes, according to scientists.
Related: Scientists find evidence of gravitational waves predicted by Einstein
"[Philae] was a completely different problem – the moon's gravity is significantly stronger … the Moon's geometry is very well understood – we have got a good idea of where we will land," said Winetraub. "We're doing our best – it is rocket science!"
After landing on the moon, SpaceIL must then complete its video and picture tasks, as well as undertaking its short journey over the lunar surface.
"We're going to do it in a single hop – we're going to reignite the engines, do a little launch and land again, 500 meters [1,600 feet] to the side," said Winetraub.
SpaceIL will also conduct scientific experiments in conjunction with Israel's prestigious Weizmann Institute to measure the lunar magnetic field. "It's additional data on top of what the Apollo missions did," said the SpaceIL co-founder.
Related: Meteorite probably didn't kill man in India, NASA says
The spacecraft will use solar panels and a battery for power while on the moon. "We plan [to operate it] for a few days, but it might be longer," said Winetraub. "We're trying to land on the lunar sunrise – we need the place to be lit so that we have energy to power our solar panels; we need to be able to see the land and it's cooler [during the sunrise], as opposed to when the sun is fully up."
The scientist, who researched Martian colonies at NASA's International Space University, hopes that the eventual success of SpaceIL will inspire young people. "We want to put the spotlight back on science because it's very important for the economy of Israel and the U.S. that kids will want to become engineers and scientists and one day, they could make breakthroughs of their own," he told FoxNews.com. "We use the spaceship as a source for them to identify and choose science as careers."
SpaceIL partners include Israel Aerospace Industries, telecommunications company Bezeq, Tel Aviv University and the Technion – Israel Institute of Technology. "Israel is a small country that has extreme innovation," said Winetraub.
Follow James Rogers on Twitter @jamesjrogers
This story has been updated to reflect that SpaceIL has signed a launch contract with satellite specialist Spaceflight to carry its moon probe on a SpaceX Falcon 9 rocket.