Girl, 8, discovers 1,500-year-old Viking sword in Swedish lake
NEWYou can now listen to Fox News articles!
An 8-year-old girl in Sweden over the summer accidentally discovered a Viking sword estimated to be 1,500 years old, Minnesota Public Radio reported on Thursday.
Saga Vanecek, a former resident of Minneapolis, was skipping stones in a lake in Southern Sweden when she discovered the sword in "muddy clay," her father, Andy Vanecek wrote in a Facebook post.
"[S]he picked up something that I thought was a stick and held it up as Pippi Longstocking," he said.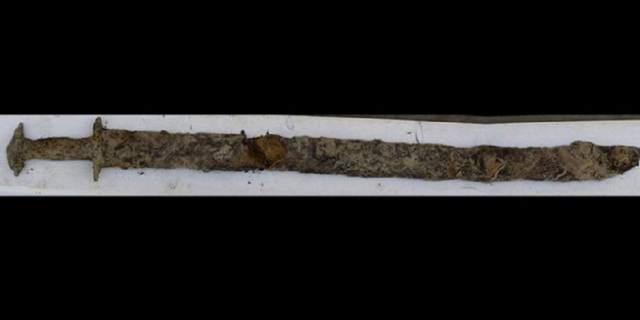 ANCIENT 3,000-YEAR-OLD CONTAINER FOUND WITH TRACES OF OPIUM
The Vanecek's contacted an archaeologist the next day to inspect the sword. The archaeologist determined it was from the Iron Age, or roughly 1,500 years old, Andy Vanecek wrote. He said the sword is the first of "its kind ever to be found in Scandinavia."
Andy Vanecek said the family withheld their July discovery from the press because they were "afraid that if this find would go public too soon, there would be a lot of people there, perhaps destroying our possibility to find things later."
The discovery was first reported on Wednesday, which brought museum researchers to the area for inspection. Mikael Nordström who works at the Jönköping County museum in Jönköping, Sweden, said his team discovered "another prehistoric object; a brooch from around the same period as the sword."
He speculated the area could have been a "place of sacrifice."
NAKED SERVANT PAINTING REVEALED IN NEWLY-DISCOVERED ANCIENT TOMB MURAL
Another museum staff discovered a coin estimated to be from the 18th century on Wednesday, MPR reported. No other artifacts have been found.
According to MPR, the Vanecek's moved from Minneapolis to Sweden in 2017 to be closer to the maternal side of the family.
"The cool thing is that I'm a huge Minnesota Vikings fan, and this looks just like a Viking sword," Andy Vanecek told reporters.