Giant rats trained to sniff out TB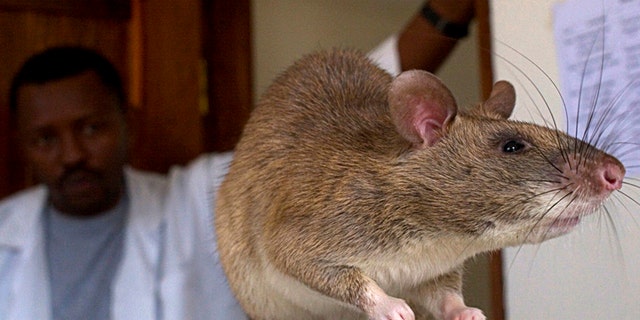 Which are you more afraid of: giant rats or dying of tuberculosis? Hopefully you chose dying of tuberculosis, because Reuters reports a Belgian organization called APOPO is training dozens of African giant pouched rats to sniff out TB, starting with at-risk populations in the crowded prisons of Tanzania and Mozambique.
"This program is very important as the rats will enable … early detection of TB in risk populations such as prisoners and prison staff," an APOPO doctor tells the Independent.
According to NPR, the 3-feet-long rats are quicker, better, and cheaper than lab technicians when it comes to screening for TB. It takes one lab technician four days to screen 100 samples; a rat can screen that many in 20 minutes.
And all it wants in compensation is a bit of banana. Baby rats start their training as soon as their eyes open. They're socialized to humans (trainer "Uncle Albert" takes them on motorbike rides in between copious petting) and taught to sniff out the presence of TB in mucus samples.
Once fully trained at nine months, they have a nearly 100% accuracy rate in detecting TB. Then it's off to work. One rat named Chewa does two 40-minute screening sessions per day with a break for napping and playing in between.
And the usually enthusiastic rats are allowed to retire when they no longer appear to enjoy smelling mucus samples. "They can live out their days lounging with their friends, snacking on watermelon, running on wheels, chasing their tails, whatever they want to do," an APOPO community manager tells NPR.
"The life of a retired rat is especially blissful."
This article originally appeared on Newser: Giant Rats Trained to Screen for TB in Prisons
More From Newser