Georgia angler reels in rare Kemp's ridley sea turtle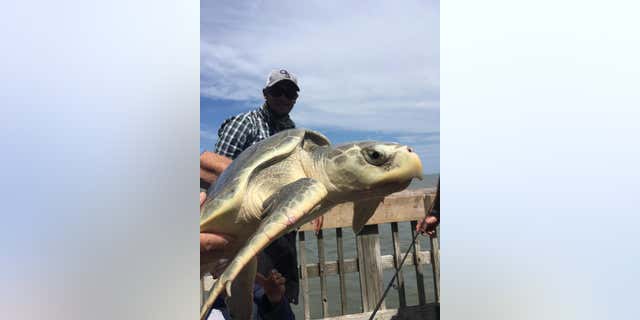 An angler in Georgia recently reeled in a Kemp's ridley sea turtle off a pier in Tybee Island.
The angler, John Amann, accidentally caught the Kemp's ridley sea turtle — the most endangered of all sea turtles — on Monday, according to the Savannah Morning News.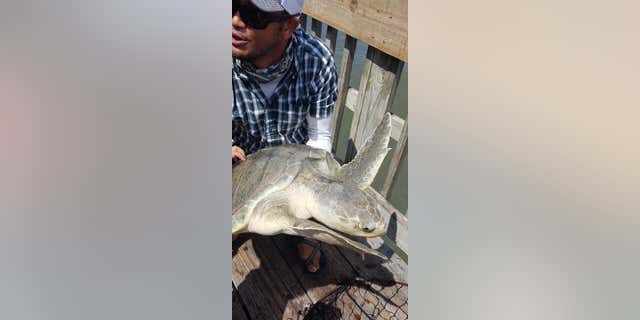 James Fleullan, who witnessed the event, posted pictures of the sea creature to the North American Field Herping Association's Facebook page.
"As a certified naturalist and environmental educator, I was keenly aware of the species and the significance of the sighting," Fleullan told Fox News on Wednesday evening.
Fleullan emailed the state's department of natural resources to report the finding, he added.
FLORIDA BEACH LITTERED WITH 'HUNDREDS' OF DEAD FISH, MARINE LIFE
According to the North Florida Ecological Services Office, "the range of the Kemp's ridley includes the Gulf coasts of Mexico and the U.S., and the Atlantic coast of North America as far north as Nova Scotia and Newfoundland."
The World Wildlife Fund estimated there are roughly 1,001 to 10,000 nesting females currently. The North Florida Ecological Services Office said more than "40,000 nesting females were estimated in a single arribada" in 1947.
GEORGIA HOTEL HOUSEKEEPERS FIND SEA TURTLE HATCHLINGS IN TRASH CAN, POLICE SAY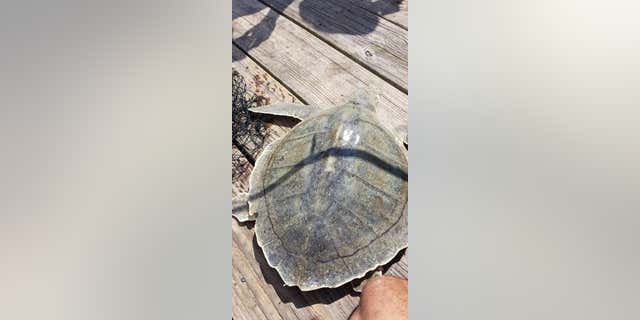 The population declined mainly due to human activity, namely the "direct harvest of adults and eggs and incidental capture in commercial fishing operations," according to the ecological office.
The turtle caught on Monday was measured at 26 inches in length before it was released back into the water, the Savannah Morning News reported.