Florida scientists discover new 'alien-like' shark with huge eyes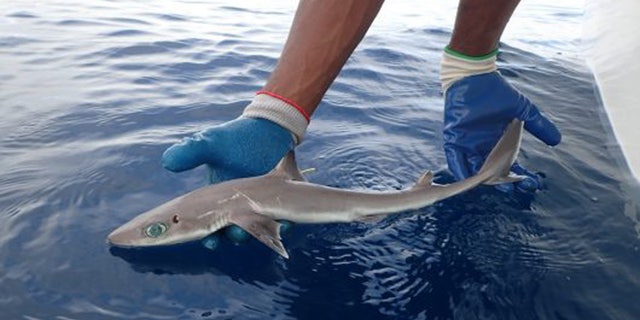 NEWYou can now listen to Fox News articles!
Just when you thought it was safe to go into the water – Florida scientists have discovered a new species of dogfish shark with enormous eyes.
The new species, known as Squalus clarkae, named after marine biology pioneer Eugenie Clark, lives in the deep waters off the Gulf of Mexico. It was previously thought to be part of the Squalus mitsukurii, a dogfish species in Japan, but DNA testing has proven otherwise.
"Squalus clarkae is genetically distinct from other species with significant statistical support..." the study's abtract reads.
20-FOOT SHARK SURPRISES COAST GUARD CREW OFF MAIN COAST: 'IT'S REAL LIFE JAWS'
The abstract continued: "Morphological estimates also revealed differences between S. clarkae, S. mitsukurii, and other Atlantic Squalus species, with S. clarkae exhibiting a longer body, smaller interorbital space, shorter caudal fin, and a differently-proportioned first dorsal fin."
"Deep-sea sharks are all shaped by similar evolutionary pressure, so they end up looking a lot alike," said one of the study's authors, Florida Institute of Technology assistant professor and shark biologist Toby Daly-Engel, in a statement. "So we rely on DNA to tell us how long a species has been on its own, evolutionarily, and how different it is."
While its eyes are certainly a noticeable feature, much different than other dogfish sharks, it is relatively small, according to LiveScience. Its body ranges between 20 and 28 inches in length.
Naming the new species S. clarkae is an homage to Clark, who was known as "the Shark Lady," before passing away in 2015 at the age of 92. One of the first female marine biologists, Clarke is credited with starting the Cape Haze Marine Laboratory in 1955.
SHARK ATTACKS: WHAT YOU KNOW ABOUT SHARKS IS WRONG
"Dr. Clark was a trailblazer for women in shark biology," marine scientist Mariah Pfleger said in the statement. "Her work showed me that it was possible to make my mark in a male-dominated field. This paper is a perfect example of how her career has influenced multiple generations of women in science: the first author is a woman who graduated from a woman-led lab."
The research was published July 17 in the scientific journal Zootaxa.
Follow Chris Ciaccia on Twitter @Chris_Ciaccia