Florida construction worker unearths possible mammoth bone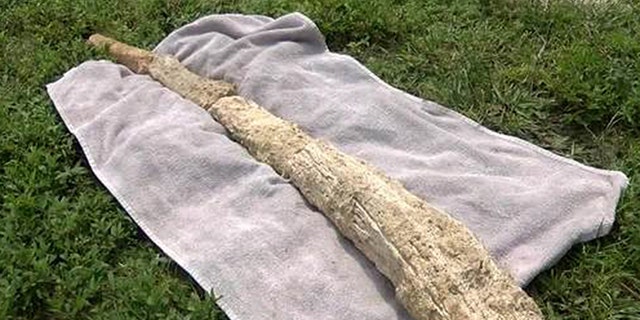 A possible mammoth bone was recently discovered at a construction site in Cape Coral, Florida.
The bone, possibly a fossilized tusk, is "about 12,000 years old at the least," David Carr, an archeologist and executive director at the Archeological and Historical Conservancy in Fort Lauderdale, told Fox News on Thursday.
FLORIDA CONSTRUCTION WORKERS UNEARTH PREHISTORIC BONE FRAGMENT, LIKELY FROM MAMMOTH
However, Carr noted that experts with his organization have not yet analyzed the fossil, so "it's difficult for us to come to a definitive conclusions" regarding what exactly it is and how old it may be.
Lindsey Shipers told Fox 4 her husband found the fossil while digging in the construction zone.
"He was just digging with a machine and came across it," she said. "It's amazing. It's just something you don't find every day."
ELEPHANT BIRD MYSTERY SOLVED? DISCOVERY MAY EXPLAIN DEMISE OF WORLD'S LARGEST-EVER BIRDS
The news comes months after the discovery of what is believed to be a bone fragment from a mastodon or mammoth. The news station reported both fossils were found in the same area.