Florida beachgoers discover 'holy grail of shipwrecks' after remains of 18th century ship wash ashore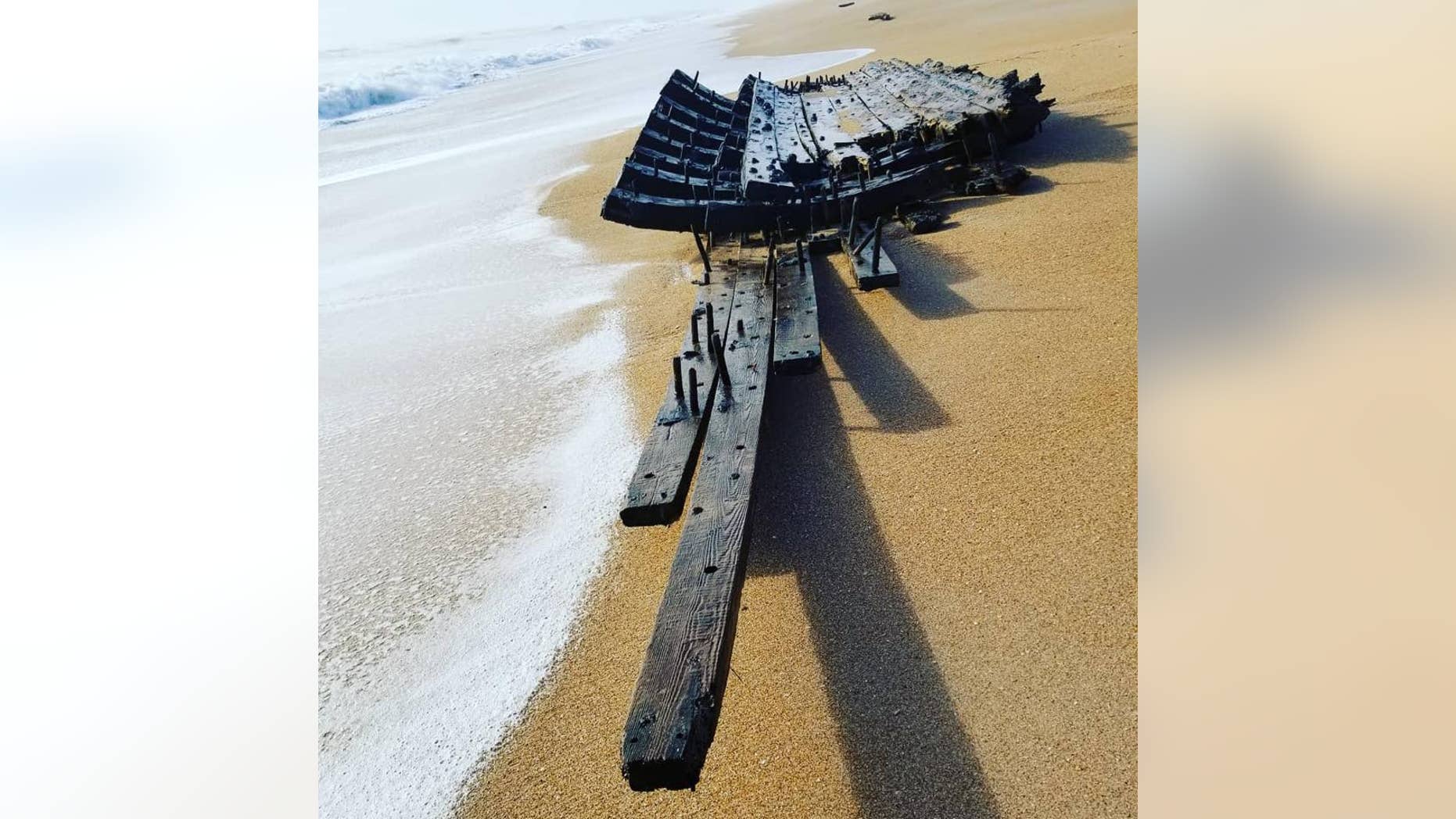 Part of a centuries-old old sailing ship washed ashore on Ponte Vedra Beach in Florida overnight Tuesday, local officials said.
Julie Turner and her 8-year-old son Patrick first came across the ship early Wednesday, Tonya Creamer of the St. Augustine Lighthouse and Maritime Museum told Fox News. Initially, the two thought it was a part of a fence, but realized soon after it was "a historical piece of an artifact," Turner told CBS47. 
"They've been so fantastic -- they've been watching it all unfold," Creamer said of Turner and her son.
Archaeologists with the St. Augustine Lighthouse and Maritime Museum, along with other organizations, have been investigating the wreckage and suspect that it is a well-preserved section of a wooden ship's hull, Creamer said.
Researchers with the St. Augustine Lighthouse and Maritime Museum have been documenting the artifact. Creamer said archaeologists on her team believe the ship could date back as far as the 1700s, but "statistics show that it might be from the 1800s," because of the amount of ship traffic around St. Augustine during that time.
As of now, archaeologists don't have a definitive date and are continuously working to find out where the ship is from originally, Creamer said. Finding a piece of wreckage like the one on Ponte Vedra beach is "unprecedented," she said, adding that it is one of the largest to wash up in the area in a little over a decade.
"To actually see this survive and come ashore. This is very, very rare. This is the holy grail of shipwrecks," Marc Anthony, the owner of Spanish Main Antiques in St. Augustine, told CBS47.
Anthony, who has spent more than 20 years searching for shipwreck artifacts and treasure coins, among other historical items, said the wreckage appeared to be from the 18th century.
What will happen to the wreckage next is not entirely clear.
Creamer said the ship washed ashore on state land, so Florida officials will ultimately decide what to do with the artifact. And while researchers "made a valiant effort" earlier this week to move the wreckage out of the way of the high-tide, they were unsuccessful. As a last resort, they used rope and stakes to try to keep the ship in place so they can continue to study it. For now, that method seems to be working, she said.
However, there's still a chance the sea could reclaim the 48-foot section of the ship. That's part of the reason why researchers from the museum and the Florida Public Archaeology Network have taken photos and measured the vessel to create a 3D model of it, Creamer said.
Creamer said she's encouraging members of the public to check out the ship's remains.
"We want the public to come take pictures, see it and talk about it because sometimes archaeology is done in areas that people can't see," she said. "We are all collectively excited about this."
The Associated Press contributed to this report.