First letter written onboard the Titanic up for sale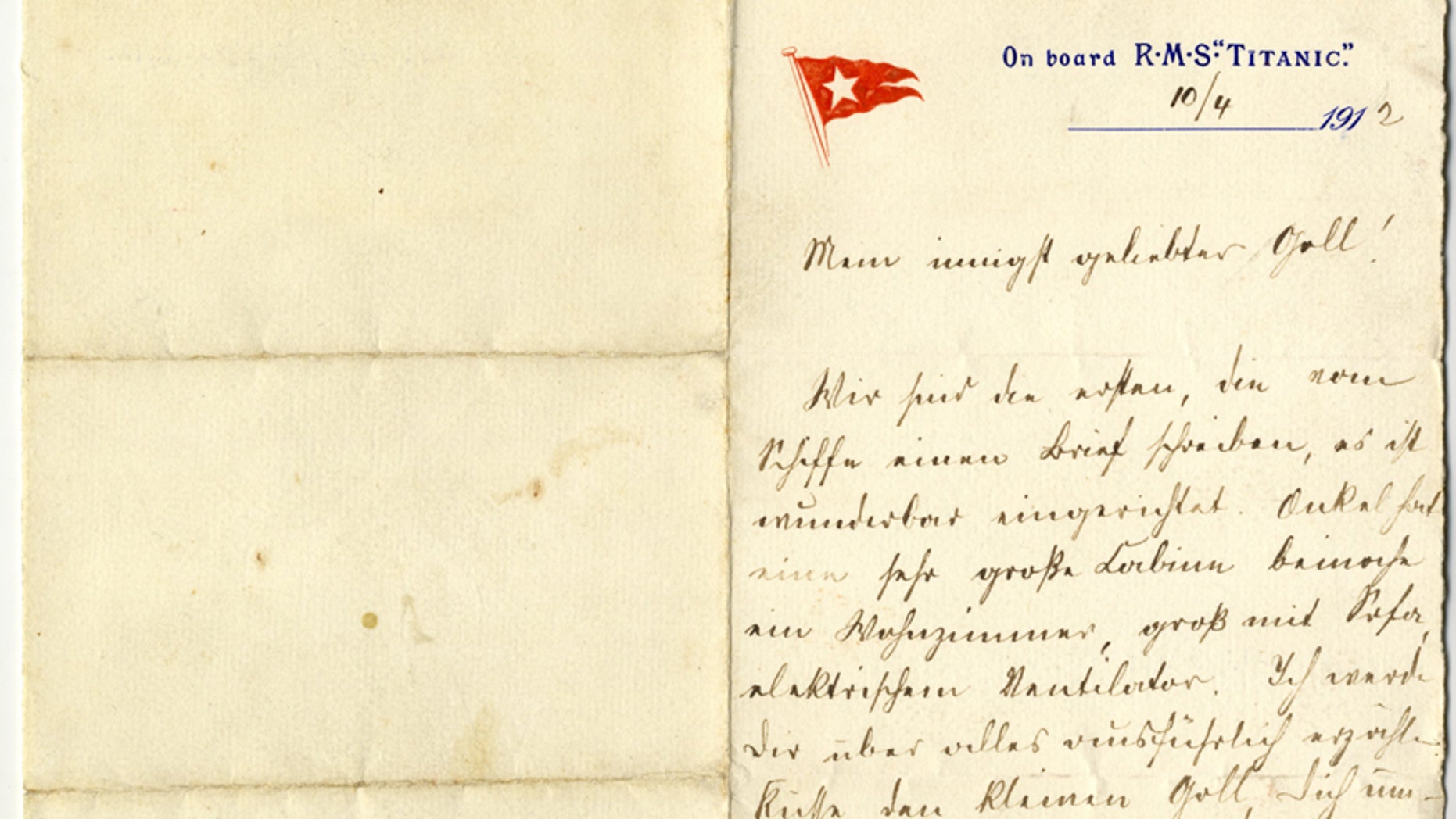 The first letter written onboard the Titanic, penned just hours before the ship embarked on its doomed maiden voyage, will be sold at a U.K. auction this month.
The letter was written on April 10 1912 before Titanic set sail from Southampton for New York. The author, Paul Danby, wrote the note while visiting his wife's uncle Adolphe Saalfeld, who was a passenger on the ship.
Danby left Titanic before it set sail and paints a fascinating picture of the ship in his note to wife Rose, who he addresses by her nickname "Goll."
"My very much loved Goll, We are the first who write a letter from the ship, it is wonderfully appointed," he wrote, in German, on Titanic-headed paper. "Uncle has a very large cabin nearly a living room with a sofa and an electric ventilator. I will tell you all in detail later."
The Titanic struck an iceberg at 11:40 p.m. ship's time on April 14 1912 and sank just over two hours later with the loss of more than 1,500 lives.
Related: Molly Brown's Titanic cup sold at auction for $200,000
"There are a few Titanic letters in existence, but to have one like this with such superb content – it's almost like being there," Henry Aldridge & Son Auctioneer Andrew Aldridge told FoxNews.com. "You can almost smell the paint."
Saalfeld, who was travelling to America to show his collection of floral essential oils to potential clients, survived the disaster. The businessman was in the ship's smoking lounge enjoying a port and a cigar when it hit the iceberg, according to Henry Aldridge & Son. "He went to his Cabin C-106, put on a coat and went to the deck and entered lifeboat 3, being later rescued by the Carpathia," the auction house explained, in a press release. "His leather satchel containing his floral perfume samples was left behind."
The satchel containing 65 glass vials and metal containers was discovered among the wreckage of Titanic by the Mir 1 submersible in 2000.
The letter also represents a chapter in the eventful and ultimately tragic life of its author. Born in Berlin, Danby moved to England to work for Saalfeld, a merchant and perfumier, in 1907. He met and fell in love with Saalfeld's niece Rose the following year, and married her in 1910. As a German living in England, he was interred during WWI and moved to Amsterdam after the war, where he ran a successful business until the Nazis invaded Holland in 1940. In 1943, after turning down an offer to go into hiding, Danby was arrested by the Nazis on account of his Jewish faith and murdered at Sobibor Death Camp in Poland. Rose and Danby's mother Clara were also killed at Sobibor.
Related: Did this iceberg sink the Titanic?
The letter to Rose was kept in storage in Amsterdam during the war and is now being sold by his descendants. "To have a Titanic letter that has got this historical connection is unknown," Aldridge told FoxNews.com.
Danby's daughters Margaret and Ellen survived the war, with the latter emigrated to Canada, where she became a world-renowned figure skating coach. Danby's grand-daughter Petra Burka represented Canada at the 1964 Winter Olympics, winning the bronze medal for figure skating.
The letter, which has a pre-sale estimate of $14,117 to $21,175 will be sold at auction in Devizes, U.K. on April 23.
Last year a cup presented by Titanic survivor Molly Brown to the captain of rescue ship Carpathia sold for $200,000 in a major auction of Titanic memorabilia held by Henry Aldridge & Son. A photo purportedly showing the iceberg that sank the Titanic also sold for $32,000 in the auction.
Follow James Rogers on Twitter @jamesjrogers