First images of huge, stunning Amazon coral reef released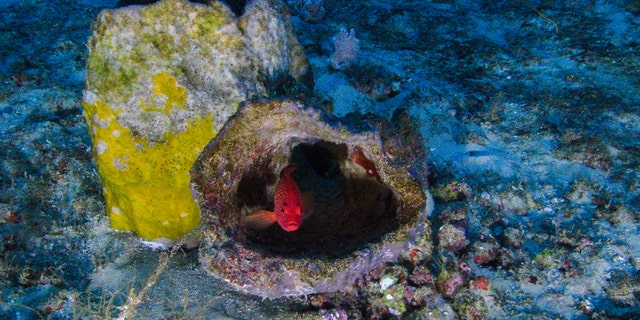 Scientists working in the waters off the coast of South America have released the first images of the stunning Amazon Reef.
The coral reef was discovered last year during an expedition off the coast of Brazil where the Amazon River meets the Atlantic Ocean. Scientists aboard the Greenpeace ship Esperanza were conducting an exploration using a submarine when they came across the system, located about 721 feet below the sea and 62 miles off the coast.
CHRISTMAS CREATURE: 'CANDY CANE' CRAB DISCOVERED IN THE CARIBBEAN
Some 600 miles long, the reef stretches from French Guyana to the Brazilian state of Maranhão and is part of a system of corals, sponges and rhodoliths, with an area of 3,600 square miles, according to Greenpeace. In addition, the reef's usage of light is unique, as are its water conditions, according to experts.
In a press release on the Greenpeace website, Nils Asp, a researcher at the Federal University of Pará, said the reef "has a huge potential for new species, and it is also important for the economic well-being of fishing communities along the Amazonian Coastal Zone."
ENDANGERED SEA TURTLES ARE ACTUALLY THRIVING AT BELIZE REEF
In its release Greenpeace voiced its concern that oil companies BP and Total could be given permission from the Brazilian government to drill in the area, which has an estimated 15-20 billion barrel reserve.
Noting that less than 5 percent of the ecosystem has been currently mapped, Asp said, "Our team wants to have a better understanding of how this ecosystem works, including important questions like its photosynthesis mechanisms with very limited light."