'Firenado' caught on film during 10-engine blaze
A bizarre "firenado" was seen swirling amidst a 10-engine blaze in Derbyshire, England.
The Leicester Fire and Rescue Service posted several videos showing the swirling vortex of fire and air, which is caused when cooler air enters the top of the fire's hot air.
The blaze originated at the Ravensbourn plastics factory and it took firefighters 12 hours to put it out, reports Metro UK.
CALIFORNIA WILDFIRES RAGE IN ASTRONAUT PHOTOS FROM SPACE STATION
The incredible phenomenon can be seen forming and swirling from multiple angles.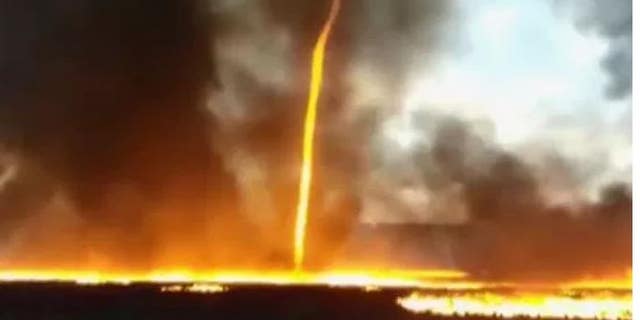 More than 600,000 plastic bread trays were destroyed and flames shot up 60 feet into the air.
No injuries were reported, according to East Midlands Ambulance Service.
"The main thing is that no-one was injured or burned. Stock can be replaced, people can't," David Meredith, 74, who co-owns the company, told Metro UK.
The fire's timing prevented more extensive damage.
"Had it been near Christmas when the trays are returned we could have had up to 1.5 million there and it probably would have been something you could see from space," he added.