Famous shipwreck isn't done revealing its secrets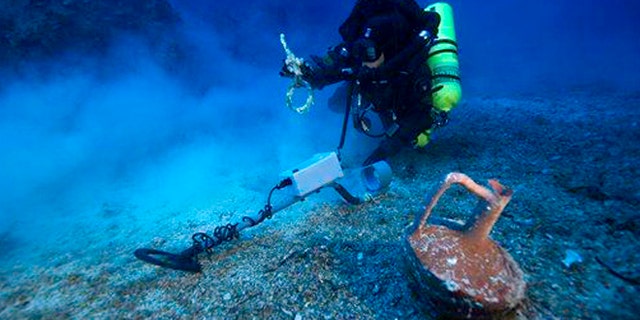 NEWYou can now listen to Fox News articles!
A shipwreck that gave the world the deeply mysterious Antikythera mechanism is still yielding treasures—and teaching researchers about the lifestyles of the Greek and ancient.
The latest finds at the ancient wreck dubbed the "Titanic of the ancient world" include a bone flute, a bronze armrest that may have come from a throne, glassware, fine ceramics, and a piece from an ancient board game. "This shipwreck is far from exhausted," a marine archaeologist with the Woods Hole Oceanographic Institution says in a press release. "Every single dive on it delivers fabulous finds, and reveals how the '1%' lived in the time of Caesar."
The wreck, which dates from around 65BC, was found by sponge divers off a Greek island in 1900 and Woods Hole says it is carrying out the first systematic excavation of the site, using information gathered by a robotic submersible last year, UPI reports. In fact, it's one of the biggest underwater archaeological projects in the world, notes New Scientist.
The institute says that over the last month, good weather helped teams make more than 60 dives to the wreck's large debris field.
"We were very lucky this year, as we excavated many finds within their context, which gave us the opportunity to take full advantage of all the archaeological information they could provide," an institute archaeologist says. One key, as New Scientist explains, is that divers have discovered they need to dig deeper into the ocean floor.
One of the last searches of the year using this technique yielded a wine jug, small bronze pieces, and possibly part of a cooking pot. But researchers say they think far more significant finds await when next year's expedition begins. "There's obviously stuff down there," says one. "We just weren't digging deep enough before." (A maintenance crew uncovered an 18th-century shipwreck under a Maryland bridge.)
This article originally appeared on Newser: Famous Wreck Isn't Done Revealing Its Secrets.
More From Newser