England launches hunt for 'witches' marks'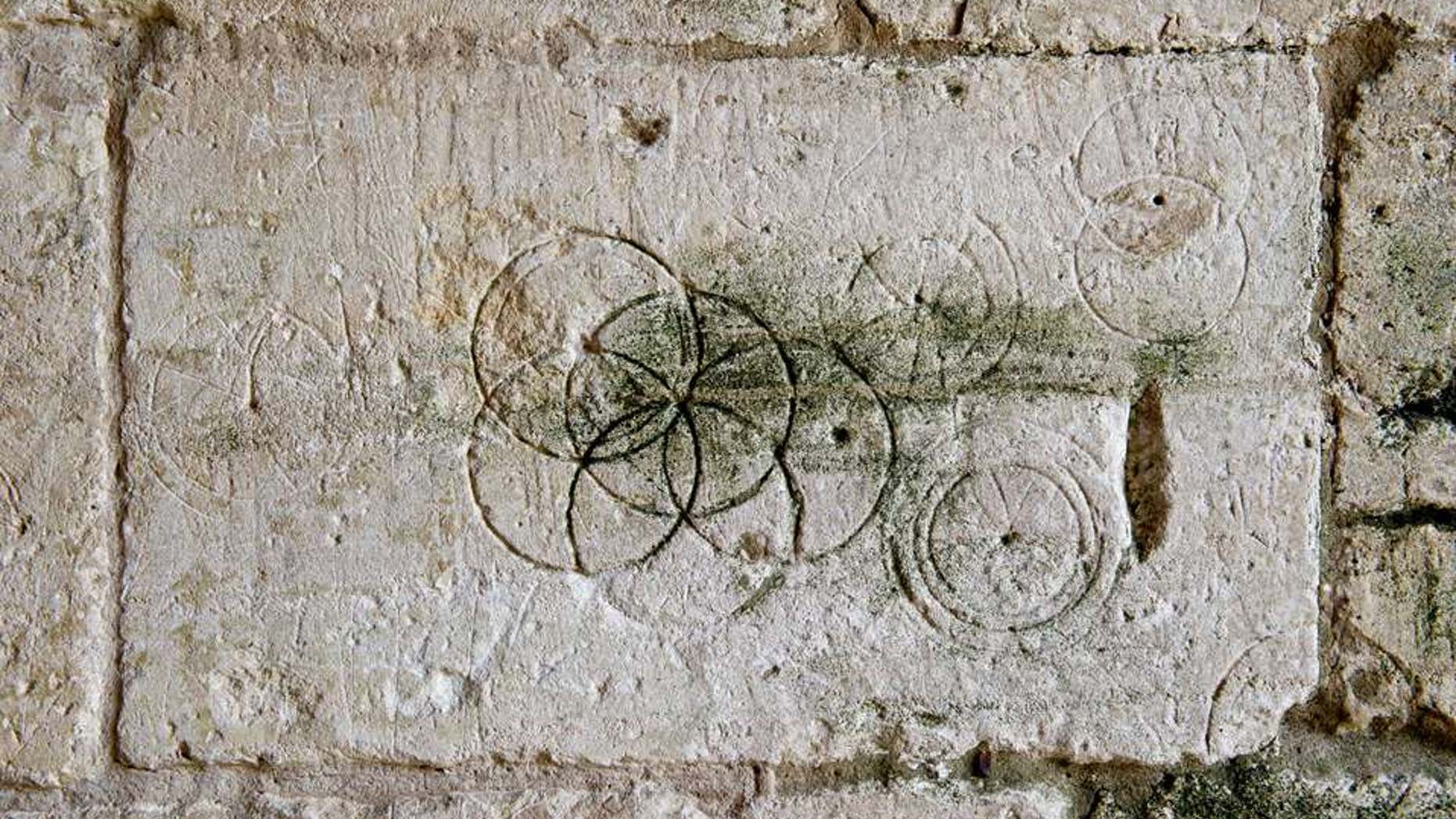 Members of the public in England have been asked to hunt for so-called "witches' marks" that were carved into old buildings to protect against witchcraft.
Historic England, a government-sponsored organization that aims to preserve the country's historic buildings and monuments, launched the project on Halloween.
The witches' marks, also known as apotropaic marks, are ritual protection symbols carved into many historic places, such as medieval churches, houses, barns and even the Tower of London, according to Historic England. However, the marks have never been fully recorded.
CHRIST'S TOMB UNCOVERED: THIS IS WHAT EXPERTS DISCOVERED
Historic England is calling on the public to help create a record of the marks by sharing photos and information about where they are located.
"Witches' marks are a physical reminder of how our ancestors saw the world," said Duncan Wilson, chief executive of Historic England, in a statement. "They really fire the imagination and can teach us about previously-held beliefs and common rituals. Ritual marks were cut, scratched or carved into our ancestors' homes and churches in the hope of making the world a safer, less hostile place."
The most common type of apotropaic mark is the daisy wheel, or hexafoil, which is often a six-petal "flower" drawn with a pair of compasses. "Daisy wheels comprise a single, endless line which supposedly confused and entrapped evil spirits," explained Historic England.
WAITER LEARNS THE HARD WAY TO BE CAREFUL AROUND ANCIENT ART
Other common apotropaic marks are pentangles, or five-pointed stars, the letters AM (for Ave Maria), the letter M (for Mary) and VV (for Virgin of Virgins). The letters were thought to beseech the protection of the Virgin Mary, say historians.
Apotropaic marks have been found in medieval houses dating from about 1550 to 1750. They have, for example, been recorded at Shakespeare's birthplace in Stratford-upon-Avon, as well as in medieval barns, where they were etched into the ancient timber to protect crops.
In 2015, a large number of apotropaic marks were discovered at the sixteenth-century Queen's House in the Tower of London.
BRUTAL BURIALS POINT A FINGER AT ANCIENT BLOOD FEUDS, STUDY SAYS
"For centuries such marks went unnoticed or were dismissed as meaningless graffiti," explained David Sorapure, head of building recording at the Museum of London Archaeology (MOLA), in an email to FoxNews.com. "However, recent research has led to a greater understanding of the intentions and meaning behind such marks and offer an exciting glimpse into the historic use of protective symbols."
Sorapure explained that because the marks were intended to protect buildings from demonic or harmful forces, they are often found next to 'vulnerable' points like doors, windows or chimneys and are often found in churches or high status buildings.
"The use of protective symbols is widely acknowledged to have continued into the 19th century," he added, noting that masons and carpenters may have kept the tradition for good luck. "A common type found is the mesh, which appears as a series of scratches forming a crosshatch. This is thought to have been intended to act a little like a net to trap demonic forces."
ROMAN BULLETS TELL STORY OF 1,800-YEAR-OLD ATTACK ON SCOTTISH FORT
MOLA experts were involved in the discovery of the witches' marks in the Tower of London, as well as an early 19th century mark in the historic Banqueting House in London's Whitehall. Sorapure told FoxNews.com that the scorch mark against a Banqueting House roof timber was intended to protect against fire, including lightning strike.
Follow James Rogers on Twitter @jamesjrogers