East Coast test rocket launch scrubbed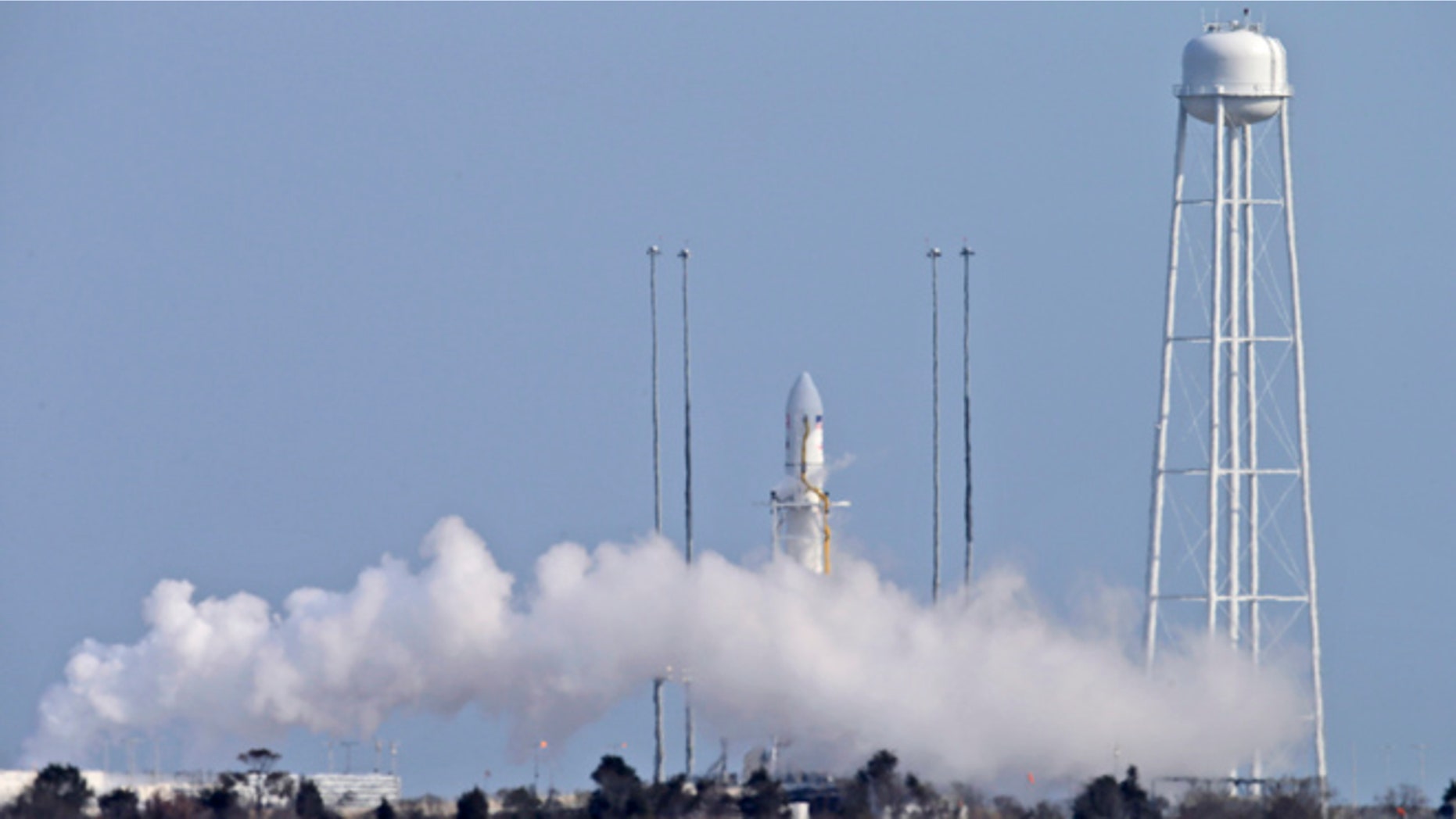 WALLOPS ISLAND, Va. – A private company hired by NASA to make supply runs to the International Space Station scrubbed a Wednesday test launch of an unmanned rocket, saying an important data cord linked to the rocket's second stage detached too soon.
The towering Antares rocket had been scheduled to blast off Wednesday afternoon from Wallops Island on Virginia's Eastern Shore when the countdown clock was halted at the 12-minute mark.
Barron Beneski, a spokesman for Dulles-based Orbital Sciences Corp., said another launch attempt would be tried no sooner than Friday afternoon.
Orbital crews were expected to examine the rocket through the night to determine how the ethernet cable came loose. Several other cables in the same area all remained attached to the rocket. Orbital officials had said initially they suspected high winds.
The launch director for NASA's Wallops Flight Facility granted Orbital permission to proceed with a launch as long as winds didn't exceed 23 mph, up from a 17-mph cap originally in place. At the time the cable separated, the winds were blowing less than 7 mph, said Frank Culbertson, executive vice president and general manager of Orbital's Advanced Programs.
"They were really light," he said. "You know, we don't know if it was something blowing in the wind or a big sea gull."
Orbital officials had said low-hanging cloud cover was a concern Wednesday as a possible launch window of several hours was shortened to just 10 minutes.
Culbertson said the initial weather forecast didn't look good for another try Friday but a decision was expected to be made Thursday on the next attempt.
The planned launch by the Washington area commercial firm was designed to test whether a practice payload could reach orbit and safely separate from the rocket. Orbital executives have said the tests would prove their capability to carry out several supply runs they contracted for with NASA.
Orbital was one of two commercial companies, along with California-based competitor SpaceX, chosen to supply the space station by NASA, which ended its three-decade-old shuttle program in 2011.
SpaceX, based in Hawthorne, Calif., was awarded a $1.6 billion contract by NASA in 2006 to make a dozen restocking missions. SpaceX has linked up with the space station three times. In 2008, Orbital jumped in and was awarded a $1.9 billion contract for eight deliveries.
"We've been playing catch up, but we're about caught up," Culbertson had said recently as test plans loomed. "By the end of next year we should have an additional four or five cargo missions under our belt, so we're going to be moving fast."
If ultimately successful in testing Antares, Orbital executives have said they hoped to launch a rocket this summer carrying its Cygnus cargo ship aloft to see whether it could safely dock with the space station.
Orbital is under contract to eventually deliver about 44,000 pounds of supplies to the space station and envisions making about two deliveries per year. Its cargo ship would carry about 4,400 pounds worth of supplies on its first three missions and 5,600 pounds on its last five.
Unlike the SpaceX's Dragon capsule, which is capable of two-way deliveries, the Orbital cargo ship is not designed to return with experiments or other items from the space station. Instead, Orbital's plans call for filling its Cygnus ship with garbage to be incinerated with the craft upon re-entering Earth's atmosphere. That's also what Russian, European and Japanese cargo ships do.