Dinosaur Exhibit Makes World Premiere in Ohio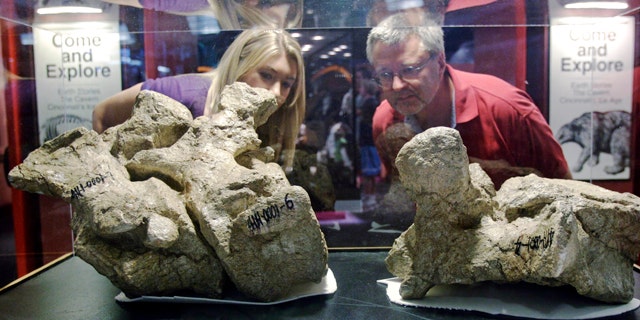 NEWYou can now listen to Fox News articles!
CINCINNATI – A fossilized nest of eggs laid by an unknown species of dinosaur is part of an exhibit that makes its world premiere Friday at an Ohio museum.
The exhibit at the Cincinnati Museum Center will feature fossils found by Chinese paleontologists, digging in the north-central region of their country. They include a rib more than 9-feet long from a species of the titanosaur family. Paleontologists believe the rib came from an animal probably close to 100-feet long and weighing 32 to 87 tons.
Some of the exhibit bones are from two species that lived 89 million to 100 million years ago, museum officials said.
"These fossils represent some of the latest fossil discoveries from China," Glenn Storrs, the museum's curator of vertebrate paleontology, said Wednesday.
Discovery of the fossils from the titanosaur family was important to the field of paleontology, enabling identification of two new species of titanosaur, he said.
Canada-based dinosaur exhibition company, Dinosaurs Unearthed Corp., developed the exhibit in partnership with the museum and the Henan Geological Museum in China. The Henan museum owns the fossils.
Most of the fossils in the "Dinosaur Bones: Titans of the Ruyang" exhibit were found in the village of Shaping — commonly referred to as "Dragon Village" — in the Ruyang area of the Henan province.
Researchers found that villagers had been digging up bones for years, believing them to be the remains of dragons. The villagers would grind the bones up for medicine, believing it would heal ailments including epilepsy and dysentery.
A few of the fossils went on exhibit at the museum earlier this year in preparation for the larger exhibition.
The new exhibit also features three roaring, moving animatronic dinosaurs and a periscope that museum officials say will allow visitors a "dinosaur-eye view" of their surroundings. The exhibit runs through Jan. 2. Tentative plans call for it to tour the United States before moving to Canada in 2012.