Deputies Handcuff 7-Foot Alligator Near Florida School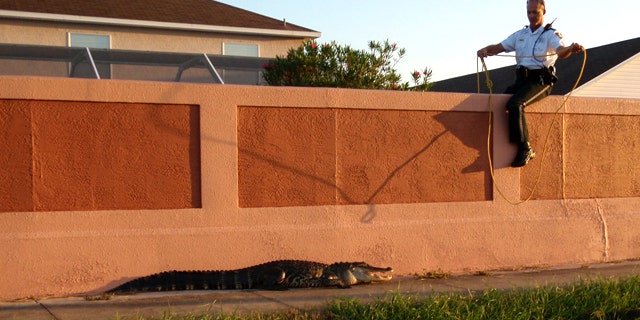 NEWYou can now listen to Fox News articles!
OLDSMAR, Fla. – Deputies in Florida had to handcuff a rather unusual suspect -- a 7.5-foot-long alligator.
Three deputies in a Tampa-area school trapped an alligator roaming lounging against a wall near the Forest Lakes Elementary school Monday morning.
A crossing guard at a Tampa-area school spotted the gator around the time children would be walking to school. She immediately called the deputies, who called a trapper when they arrived.
The trapper wasn't able to get to the area right away, and the alligator started moving toward the intersection where kids were crossing to get to school, according to the sheriff's office.
The deputies roped the gator's neck and tail as the animal rolled and thrashed, its tail breaking off chunks of stucco from a nearby wall. Deputies later secured the gator's mouth with electrical tape and handcuffed its hind legs. Florida Fish and Wildlife officials took custody of the animal until the trapper arrived.
For more see the full story at MyFoxTampaBay.com.