Death Valley may be about to enjoy a rare wildflower 'super bloom'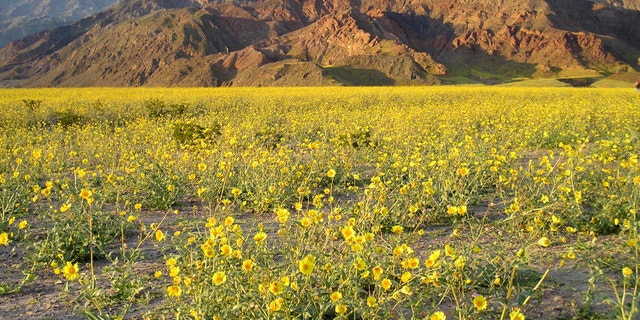 NEWYou can now listen to Fox News articles!
Death Valley may be gearing up for a rare wildflower 'super bloom,' according to experts at the National Park Service.
In a statement posted on its website last week, the Service described the bloom as "still basically localized, fantastic in the southeastern part of the park but just beginning in other locations."
Related: Rare weather event produces spontaneous snowballs in Idaho
"To have a big bloom like this, which we hope will become a 'super bloom,' which is beyond all your expectations, these are quite rare, maybe once a decade or so," explained Park Ranger Alan Van Valkenburg, in a video posted on YouTube by the National Park Service.
Autumn rains and El Nino may have fuelled the rare burst of wildflowers, which would be Death Valley's first since 2005.
Related: What caused this weird crack to appear in Michigan?
"There are so many seeds out there, just waiting to sprout, waiting to grow," said Van Valkenburg, who has lived in Death Valley for 25 years. "Death Valley really does go from being a valley of death to being a valley of life, but that's so brief, because it's not a permanent thing."