Couple spots rare white 'ghost' moose crossing highway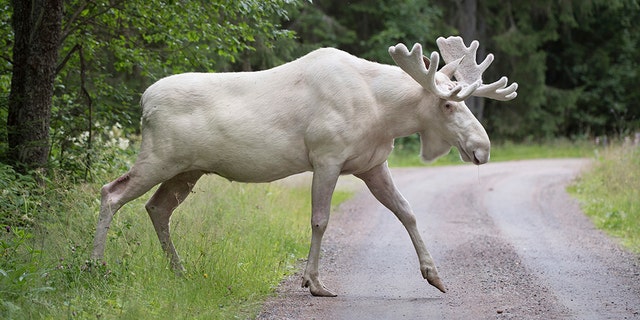 In a rare sighting, a couple from northern Ontario, in Canada, spotted two white moose crossing a highway.
Nicole Leblanc, who posted a now-viral video of the exciting encounter on Facebook, told Canadian news station CTV-News she and her husband saw the moose while driving to a camp near Foleyet.
GEORGIA CONSTRUCTION WORKERS FIND ROUGHLY 1,000 HUMAN TEETH HIDDEN INSIDE WALL
"People are amazed. It's not every day that you get to see it and I was able to tape it ... it's a beauty to see," the Timmins resident said.
Though their striking color may have caused some to think these creatures were albino, the news station reported they were not. Rather, these white moose — sometimes called "ghost" or "spirit" moose — are a snowy white due to the Armstrong White Gene Strain, a recessive gene which causes the color, according to Tourism Northern Ontario.
Non-albino white moose can sometimes be called piebald, meaning they have specks of brown on their white coat, National Geographic reported.
The 1997 Fish and Wildlife Conservation Act prohibits the hunting of these unique creatures if they are more than 50 percent white, according to the tourism site.
STOLEN INFLATABLE COLON FOUND IN VACANT HOME, KANSAS CITY POLICE SAY
Northern Ontario residents or tourists can typically spot white moose along highway 101 — the same highway where Leblanc captured the video — between Foleyet and Timmins, according to Tourism Northern Ontario.
As of Wednesday morning, Leblanc's video had more 3 million views and 80,000 shares.