Colorado wildlife officials rescue bear cub from wildfire, treat severely burnt paws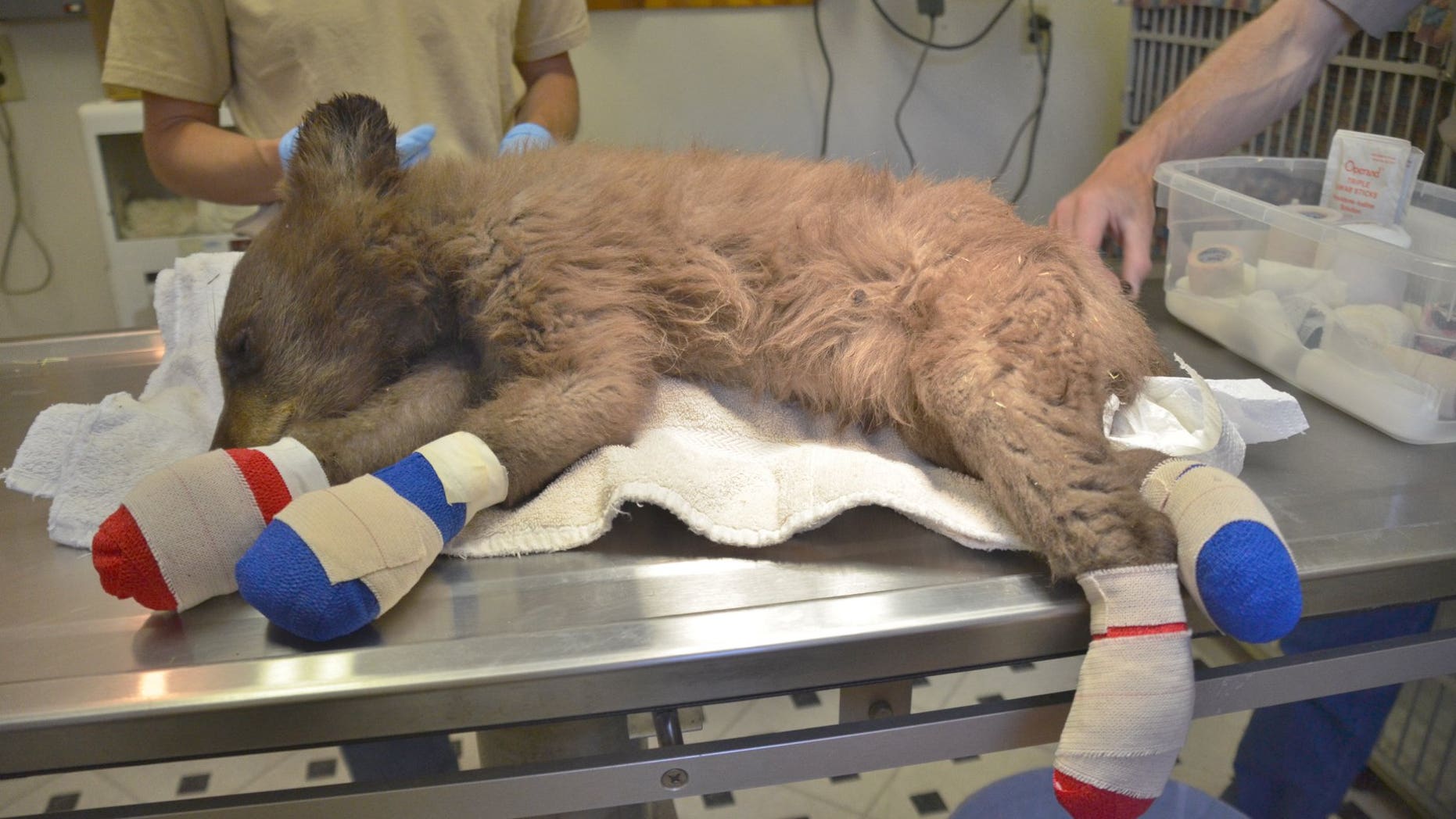 Officials with the Colorado Parks and Wildlife (CPW) announced Friday that they rescued an orphaned bear cub after it was found with severe burns on all four of its paws.
The cub, a female that's roughly 5 months old, was first spotted by firefighters who were battling a wildlife north of Durango on June 18. After a few days, however, they noticed that the bear's mother was nowhere to be found, prompting them to call CPW officials, according to a press release from the CPW.
Wildlife officers found the cub in a tree and immobilized her with a tranquilizer dart. She was later sent to a state facility in Frisco Creek.
"When the bear was brought in, I wasn't sure if it was going to make it," Michael Sirochman, manager of the Frisco Creek facility, said in a statement.
However, the cub is now "responding very well to treatment," he said, adding that she will likely be returned to the wild this winter.
Sirochman said the cub's burns were severe. She's being treated with salve, bandages, antibiotics and pain medication, and is eating solid food and a liquid milk replacement.
Once she heals, she will spend the rest of her days at the facility with four other bear cubs who are also expected to be released this winter.
"We have good luck returning young bears to the wild," Sirochman said, adding that the CPW is "very strict about minimizing human contact." Excess interaction with humans could make it difficult for the cub to survive in the wild, the agency said.
The wildfire that injured the cub has burned 65 square miles near Durango in the southwestern corner of the state. More than 2,000 homes were evacuated at one point, but those residents were allowed to return. Additionally, five other Colorado wildfires prompted the evacuation of at least 650 homes.
The Associated Press contributed to this report.