California fire and rescue squad seeking owner of tortoise who was 'unable to outrun the paramedics'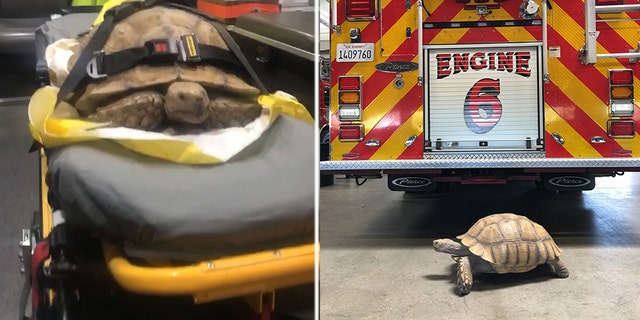 A fire and rescue squad in California is trying to find the owner of a tortoise that was discovered by paramedics Thursday taking a slow-and-steady stroll in El Cajon.
VIRGINIA HOMEOWNER FINDS NEARLY 50-POUND 'AGGRESSIVE' SNAPPING TURTLE IN YARD
Heartland Fire & Rescue took to Facebook about the quest for the unidentified owner, telling followers that the "rather interesting patient" was found "slowly" walking on the sidewalk.
"Unable to outrun the paramedics, and possibly suffering from a little 'shell shock,'" the tortoise was brought to the city's animal shelter, where it'll be cared for until someone comes to pick it up, the fire & rescue squad wrote.
FLESH-EATING PIRANHA-LIKE FISH'S 150-MILLION-YEAR-OLD REMAINS DISCOVERED IN GERMANY
"All in a day's work!" the Facebook post said, offering photos of the stray animal. One showed it securely fastened to a gurney. In another, it is seen posing near a firetruck.
As of Friday, the tortoise remained at the shelter, where it was "being well taken care of," and officials were investigating tips suggesting the animal came "from a yard on Emerald," the Facebook post said.