Bookstore finds rare Napoleonic War journal hidden in storage cabinet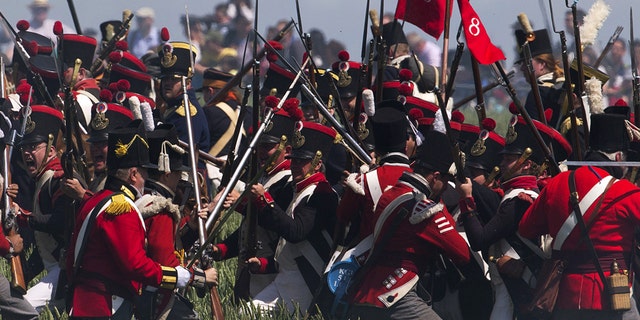 A bookstore in Tasmania, Australia, has unearthed an extremely rare journal from the Napoleonic wars that had been hidden in storage for decades.
Cracked and Spineless New and Used Books in the city of Hobart was stunned when one of its customers found the leather-bound journal, which is more than 200 years old.
"This little thing has been hiding in our storage cabinet for god knows how many years, until recently discovered by one of our regular customers, whom we allowed to go 'digging'... It was someone's old journal from 1811!!!!" explained the store, in a Facebook post.
Related: First complete Battle of Waterloo skeleton identified as German soldier
The journal was written by John Squire, a British Army officer who served with the Duke of Wellington in the Peninsular War in Spain and Portugal during the Napoleonic Wars.
A lieutenant colonel in the Royal Engineers, Squire was a well-known diarist who documented the British Army's campaigns against Napoleon. Commissioned as a Royal Engineers officer in 1797, Squire died of fever in 1812 during the Peninsular War.
The volume discovered in Hobart covers the period from May 12 to July 22, 1811, detailing the siege of Badajoz in Spain. The word "Alentejo," a region in Portugal, is written on the cover of the journal, which contains original drawings, according to the bookstore's Facebook post.
Related: 200 years later, experts seek to unearth the Battle of Waterloo's secrets
Mike Gray, one of the bookstore's owners, told the BBC that the book could have been in the shop for 20 years. No-one was sure how it arrived, he said, noting that the store's previous owner collected hundreds of thousands of books. The BBC reports that the book may have arrived with early colonists to Tasmania, which was known as Van Diemen's land until 1856.
"We have NO idea exactly HOW important this little book actually is - and whether it has been sufficiently studied at all. It is a truly unique item," wrote the bookstore, in its Facebook post. "No idea what's it's worth either."
The bookstore plans to contact the Imperial War Museum in London to find out more about the journal.
Follow James Rogers on Twitter @jamesjrogers